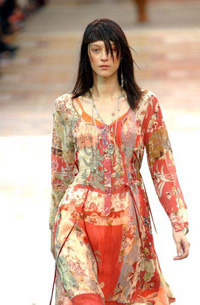 An abundance of flowers, a festival of colors, a mixture of East and West ... this, of course, is Kenzo, the always-distinctive fashion house that opened a concept store in Shanghai this month.
The store stands at a prime location - right next to Sergio Rossi and opposite to Gucci - at the Jinjiang Dickson Center, the city's latest luxury shopping haunt that has undergone a recent major face-lift.
It is also the first Kenzo store on the Chinese mainland designed under a brand new concept, which was first adopted by Kenzo's Paris flagship store at 3 Place des Victories last October.
According to Roger He, marketing manager of GSI.T, Kenzo's agent company on the Chinese mainland, the Paris-based brand currently operates nine stores on the Chinese mainland. The company will also fuse the new concept into more Kenzo stores it plans to open in China.
Visitors are plunged into a singular atmosphere as soon as they step into the 82-square-meter store. It is not that big, but cozy, somehow looking more like an exquisitely decorated house than a boutique.
On each side of the store there is a comfortable sofa waiting for customers to sit down, try on shoes, or simply feast their eyes on the entire space dedicated to the women's ready-to-wear collection.
The striking black-and-white decor was purposefully designed to bring out the bright, colorful shades of the collections. Old wooden parquet flooring is accented with random brass inserts. Like a bush with naturally wild branches, the adjustable brass hanger suspensions allow for the change of the looks on display on a daily basis.
Assembled treasures of accessories, such as handbags, shoes and scarves, are placed on rows of tray-shelves as well as in a large bookstall. A price tag is placed next to each item so that customers are spared the embarrassment of having to open a purse to look for the price.
Large floral wall patterns in the shapes of chrysanthemums and peonies float across the space, bringing to mind the vivid images of nature and plants. These voluptuous corollas are said to be drawn from the imagination of Antonio Marras, artistic director of Kenzo.
Naturally akin to the Kenzo spirit, the Sardinian designer has written new chapters in the Kenzo style story since 2003. He has developed a rich, poetic world combining diversity of influences - a fusion between fashion and other forms of art.
Inspired by craftsmanship, symbolic and cultural objects, Marras invents a contemporary fashion language and creates clothes that "tell stories."
His inspiration for the spring summer collection currently in the store is said to come from a poem about the longing between a separated couple.
Clothes feature all kinds of shapes: rounded, short, stiff, wide, supple... The large use of satin, chiffon, taffetas, cotton voile and organza brings about a romantic spring summer feeling. The patterns, as usual, feature flowers and foliage, as well as geometry, graphic patterns and abstractions. The palette touches a variety of shades including pink, cobalt, yellow, green, gray, white and black. Exquisite embroideries and decorations can be found in every small detail.
Kenzo
Location: Jinjiang Dickson Center, No.400 Changlelu
Tel: 021-64726888