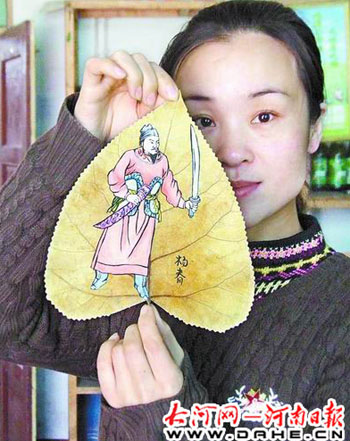 Nan Fang showed a picture-leaf, on which she drew a character from "Outlaws of the Marsh," a classical Chinese literary work in this undated photo. [Photo: dahe.cn]
Is it possible to draw pictures on common leaves? The answer is yes!
Nan Fang, a farmer in Sanmenxia, the westernmost prefecture-level city in central China's Henan province, spent one year figuring out how to draw exquisite pictures on leaves.
Henan Daily reported her series of works is 23 meters long after being mounted, depicting 108 heroes in the classical Chinese literary work, "Outlaws of the Marsh".
Five steps--fat removal, color removal, whitening, intenerating and drawing--are needed to finish each one of her works. Those picture-leaves can be mounted and have the advantage of humidity-and crack-resistance.
Nan Fang said she was inspired by a shot on a CCTV weather forecast of a ladybug creeping on a leaf.