Hong Kong's "Isabella" yesterday won Best Film in the World Film Festival of Bangkok for its outstanding performances, while the festival director was happy with an event that received warm reviews from film-makers, the media and viewers.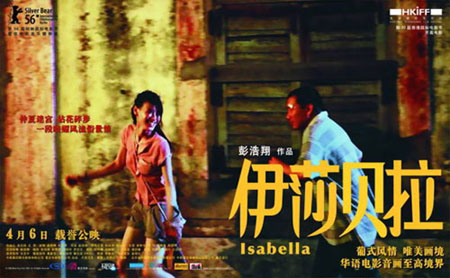 An eminent jury comprised of Iranian director Tahmineh Milani, Turkish actress Meltum Cumbul, Austrian film-maker Dr Titus Leber and Polish poster-designer Rafal Olbinski an-nounced the prize-winning films of the event, held from October 11 to 23.
The festival, now in its fourth year, is co-organised by the Tourism Authority of Thailand, Thai Airways, Major Cineplex and The Nation newspaper.
"Isabella", a Berlin Festival entry directed by Pang Ho-Cheung, focuses on a new-found relationship between a father and his long-lost daughter, who he initially picks up as a one-night stand.
According to the jury, the film was tops among the entries in many aspects, including a powerful performance by the lead actress and dynamic directing as well as its visual arts and story development.