Huge embroidered shoe attraction
(CRI)
Updated: 2006-08-08 10:47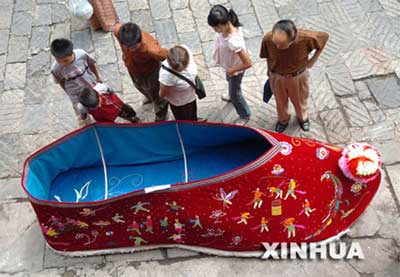 Local residents look at a giant embroidered cloth-shoe on a street in Duyun county, southeast China's Guizhou province, August 7, 2006. [Photo: Xinhua]
A huge embroidered cloth shoe catches the attention of passengers on a stone-paved street in Duyun, in Southwest China's Guizhou Province.
The cloth shoe is measured to be 0.9 meters high, with a length of 3.2 meters and a width of 1.2 meters.
Assuming an upturned shape at the toe cap, the huge shoe features the style of crafts part of the tradition of China's Maonan ethnic minority. The pattern embroidered on the shoe is vivid in its representation of the unique festivals celebrated by Maonan people, like the Fire Dragon festival, and Bench Dancing Festivity.