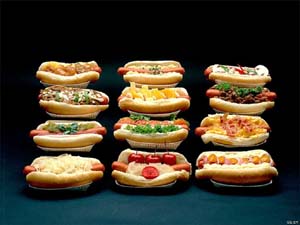 For foreigners who have got fed up with weird Chinese hot dogs, a swollen big bun with a small Chinese sausage inside, it is more than just exciting to stumble upon Orange Dog, where everything looks and tastes "normal".
Orange Dog is a snack shop located in the basement of Jiu Guang City Plaza, the big new mall on Nanjing Xilu next to Jing'an Temple. Hot dogs are its specialty. The hot dogs here are plump and juicy and look quite like the photos featured on the wall. Hot dogs on the menu include Chicago Bull, the Texas Ranch Smokies, the Mexican Fire Breather and the Orange Dog Classic. Chicago Bull, smothered with dill pickles, mushrooms, onions and a couple slices of tomato, is usually served on a tray with squeeze bottles of ketchup and mustard and a jar of relish - the way a hot dog should be served. A squeeze bottle of mayonnaise may also be included given that Shanghai hosts lot of Brits. The Fire Breather is the most expensive, coming in at a very tasty price of RMB 14.80.
Orange Dog is kind of similar to an Orange Julius, a beverage chain common in American shopping malls. It has a nice selection of smoothies that are well worth their RMB 14.80 price tag. The menu also includes some set dinners-like curry chicken-and other sandwiches, like a French Style Tuna Sandwich and a Philadelphia Style Steak Sandwich. Orange Dog's Potato Wedges (RMB 8 per box) and BBQ Hot Wings (RMB 6.80 per pair) are also worth a try besides "fresh" lemonade that is usually served hot.
Tel:021-62883212
Open time:10:00-22:00
Capacity:50-100 persons
Free delivery for orders over RMB 50.