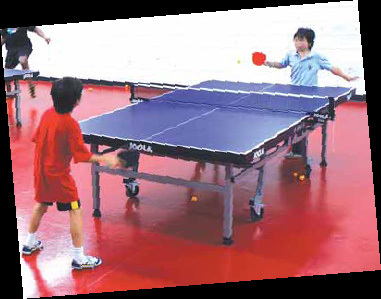 WASHINGTON: On a Wednesday evening at Club Joola in Rockville, Md., Tom Nguyen is giving an introductory table tennis lesson to a new student, a middle-aged man in a wheelchair interested in learning strategies from a sitting position. Nguyen taps orange balls across the table to him and suggests different strokes and hand positions as the man returns the ball.
Like any other American kid whose idea of table tennis involved casual recreation with friends, Nguyen "was just a basement player, pitter-pattering it back and forth," he said. "When I see table tennis now, there's no comparison. The speeds, the spins, the different strokes. That's how I got hooked."
Today he's an assistant manager at Club Joola, a private, table tennis club in suburban Washington, DC. The club is based in a clean, bright gym with several tables, and a few wayward orange balls scattered across the red floor. Three coaches, including former US Olympian Amy Feng, teach several classes of different ability levels throughout the week.
Joola, a German table tennis equipment manufacturer, opened the club nearly two years ago in the community, which has a large Chinese population.
Table tennis, as a serious sport, is wildly popular in China, but is also growing in popularity in the US. Americans are coming around to the idea that excelling at table tennis, or ping-pong, requires considerable skill, practice and strategy.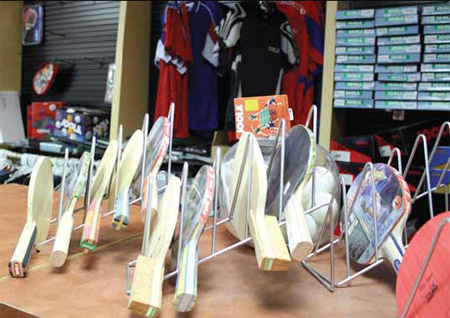 In recent years, the number of established table tennis clubs and organized ping-pong competitions in the US has increased, as have purchases of ping-pong tables for both personal and commercial use. In late September, ESPN aired the biggest table tennis tournament in the US, the HardBat Classic, in which 500 qualifying participants competed for a $100,000 prize.
Though Chinese table tennis players continue to dominate the sport, some experts are reporting new trends.
"The Chinese association saw a decrease in interest in the Chinese population," said Teodor Gheorghe, the high-performance director of the United States Association of Table Tennis. "There's a lot more activity in the US," said Robert Blackwell, CEO of table tennis equipment manufacturer Killerspin LLC. "I think it's always been popular. But I have seen a lot more tables sold this year and it's gone up in participation quite a bit in the last five years."
According to a survey released by the Sporting Goods Manufacturers' Association, participation in the sport in the US went up 35 percent from 2000 to 2008, to approximately 17.2 million people. Nearly 5 million are considered serious players who play 13 or more times a year.
Some experts say the struggling economy is drawing people to an inexpensive sport that almost everybody can play.
Televised table tennis competition also likely gets more people into the sport. Each Summer Olympics brings an increase in table sales, said Gheorghe.
Movies also create interest, such as 1994 Oscar winner Forrest Gump, in which Tom Hanks' character mastered the sport and was sent to China as part of the ping-pong diplomacy effort, and the 2007 comedy Balls of Fury, in which a table tennis prodigy is recruited by the FBI to take revenge on his father's killer by beating him in a symbolic tournament.
"We had a sense that table tennis was making a comeback," said Andrew Fried, a producer and event organizer who was involved in ESPN's televised HardBat Classic tournament.
In January, Washington and Beijing celebrated the 30-year anniversary of China-US diplomatic relationships with a table tennis match in Beijing, evoking the historic 1971 tournament, which broke the ice between the two countries and inspired the phrase ping-pong diplomacy.
But table tennis actually has a longer history in the US, where it was played as early as 1901, than it does in China.
Parker Brothers Games filed a patent on the name "ping-pong" shortly after the turn of the century.
In the 1920s, the Parker Brothers-promoted American Ping-Pong Association gathered steam. The company set out to sell as many of its tables, paddles and balls around the country as possible, causing tension with table tennis clubs and manufacturers who could not use the ping-pong name, and helping to ensure the sport was established in the US.
It wasn't until the 1950s that the Chinese took to the sport, recreationally and competitively. It caught on quickly, however, and Chinese players were soon beating those from other nations. China is currently the top-ranked country or region in the International Table Tennis Foundation. The United States is 43rd.
But the US may soon move up in the ranks. According to Gheorghe, at least 100 new table tennis clubs were started over the past six years, meaning there are now 300 across the US.
The definition of club varies, however, from a room with a table where people pay to play to a full-scale gymnasium equipped with lines and state-of-the-art equipment, said Gheorghe.
"We would like the concept of a club like it is in other countries: it has a coach, has a team, has a program for juniors, to develop them and teach them the right technique, right footwork and make them good players," said Gheorghe.
"Not just recreation only," added Gheorghe.
SpiNYC attempts to do just that. Three filmmakers who had a ping-pong table in their New York apartment founded the new table tennis club. They challenged friends to play against them in their apartment. It proved popular and they began organizing tournaments on Friday nights, and more people started showing up. "Before we knew it we had a liquor sponsor and girls coming and write-ups in (the media)," said Bill Mack, co-founder and co-owner of SpiNYC. "Within six weeks, 250 people were coming to the party. We didn't know what to do with ourselves, so we said we better start a club."
The three opened their club this year. It includes a high-end table tennis gym, locker rooms, showers, regulation tables and equipment, bleacher seating, and - to add a nightclub feel - a full liquor bar. By day, it's a serious training ground for some of the best players in the country, except on weekends, when families can use it.
SpiNYC already boasts a member list of about 400 people, world-class coaches and celebrity investors. The three founders plan to branch out into different markets around the country and the world, including China. A Chinese investor has already expressed interest in opening a branch in Shanghai.
The club helps give table tennis a more appealing image, which will boost participation, said Mack.
"We need to get it out of that basement rec room mentality and get it into something that's a sport," he said.
"We respect what China has done to make table tennis legitimate and athletic at a very high level. But watch out, China, we're coming," he added.