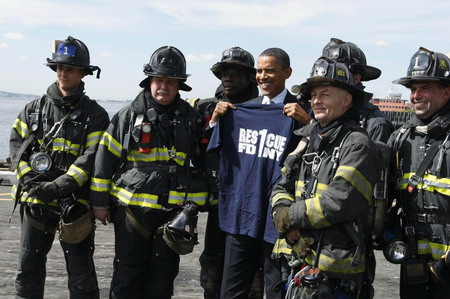 US President Barack Obama holds up a T-shirt given to him by New York City firefighters upon landing at the Wall Street Landing Zone in New York September 14, 2009. [Agencies]

WASHINGTON: President Barack Obama said on Monday he was "absolutely" certain the United States and China could avoid a trade war in a dispute over Chinese tire imports that has stoked tensions between the two countries.
Obama spoke after China responded swiftly to the Obama administration's announcement on Friday of duties on tire imports from China, saying on Monday it would request World Trade Organization consultations over the US move.
Related readings:


 China requires talks on US tire tariff


 Obama Imposes Tariffs of 35% on Chinese Tire Imports


 US tire tariff against G20 commitments: Chinese FM


 Probe 'not revenge' for hefty tire tariff


 US tire tariff may cost 100,000 jobs in China: industry official
The United States imposed the higher duties in response to a petition filed by the United Steelworkers union earlier this year. It said a tripling of Chinese tire imports from 2004 to 2008 had cost more than 5,000 US jobs.
The US announcement has threatened to cast a shadow over a summit of the Group of 20 major and developing economies to be hosted by Obama in Pittsburgh next week.
"I'm not surprised that China's upset about it. But keep in mind we have a huge economic relationship with China," he added. "But I just want to make sure that if we actually have rules written down, they mean something."
Asked whether he was confident a trade war can be avoided, Obama said, "Absolutely. I think it's in China's interest and our interest and the world's interest to avoid protectionism, particularly just as world trade is starting to bounce back from the huge decline that we have seen in the last year."