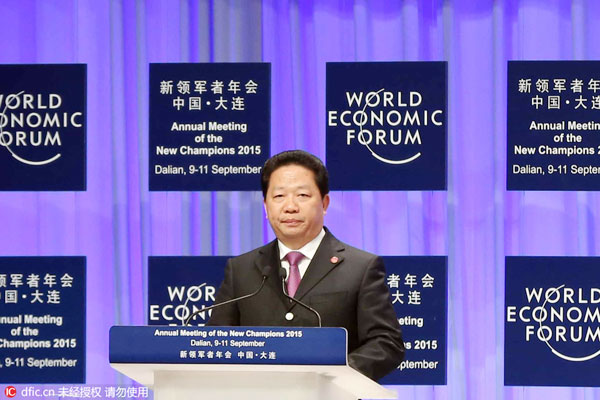 Chen Qiufa, governor of Northeast China's Liaoning province, at the World Economic Forum in Dalian, Northeast China's Liaoning province, Sept 10, 2015. [Photo/IC]
Members from local legal and judicial institutions will also make their debuts as deputies.
Li Ning is procurator-general of the People's Procuratorate in Southwest China's Yunnan province, while Gong Jiali is president of Higher People's Court of Guangdong province.
New deputies to the National People's Congress also include experts and grassroots representatives.
Luo Jun, academician of the Chinese Academy of Sciences and president of Sun Yat-sen University in South China's Guangdong province, is the leader of the China-led Tianqin Project, which centers on research of key technologies in space gravitational wave detection.
Yu Huihuai, a grain producer in Northeast China's Liaoning province, and Liu Tianxu, a village official in Northwest China's Gansu province, both help local villagers live better lives by developing the local agricultural industry.
Twenty-nine deputies' positions at the National People's Congress were terminated and four others died between last year's NPC's session and now.
The fourth session of the 12th National People's Congress will start at the Great Hall of the People in Beijing on Saturday.