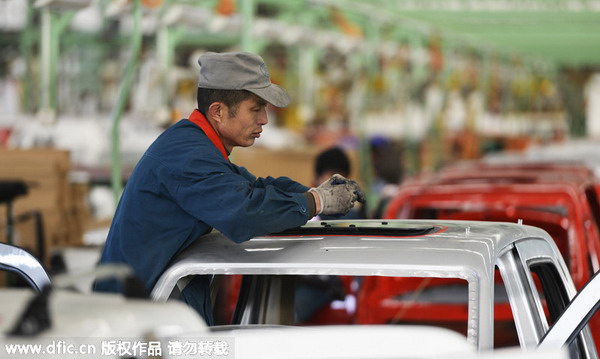 A Chinese worker assembles a new energy car on the assembly line at an auto plant in Zouping county, Shandong province, Dec 16, 2014. [Photo / IC]
BEIJING - As the annual sessions of China's top legislative and political advisory bodies are drawing to a close, overseas experts and scholars continued to show strong interests in the important gathering.
The third session of the 12th National Committee of the Chinese People's Political Consultative Conference (CPPCC), the country's top political advisory body, concludes Friday in Beijing, while the third session of the 12th National People's Congress (NPC), the national legislature, will end on Sunday.
Among different items on the agenda of the two sessions, the economic model of "new normal", along with deeper reforms in various sectors, has become a focus of world attention.
NEW MODEL OF SLOWER BUT HIGHER-QUALITY GROWTH
Hans Hendrischke, an economics professor at University of Sydney, said the "new normal", a phrase to describe China's current economic situation, "includes the successful rebalancing of the Chinese economy toward a consumer and service economy."
He added that the "new normal", characterized by slower but higher-quality growth, also includes an acute sense of the risks of the middle income trap facing China's industrial structure.
"The new normal is a stronger service orientation and high-end manufacturing in areas where China will have to create its own markets by extending its domestic economies of scale, for example in infrastructure and transport, into global markets," Hendrischke said.
On the new growth theory, U.S. experts also agree it suggests that China is determined to pursue economic transition and make further progress on its reform agenda.
"China is in the middle of an extremely difficult, but necessary transition to a different growth model based on greater reliance for growth on domestic consumption, faster service sector development, and greater reliance on domestic innovation," said Pieter P. Bottelier, a senior adjunct professor of China studies at the School of Advanced International Studies of the Johns Hopkins University.
"That transition is currently in full swing and will probably take several years," he added.
Scott Kennedy, deputy director of the Freeman Chair in China Studies at the Center for Strategic and International Studies, shared similar views, saying the Chinese government is moving ahead on reforms in many areas, including state-owned enterprises, the fiscal system, interest rates and foreign economic relations.
"The different components fit well together, and the specific policies in each area are part of a larger whole. This indicates how serious the leadership is about economic reform," he said.
Stephen Perry, a seasoned British entrepreneur and China watcher, said the world's second largest economy has carried out a set of interlinked reforms to upgrade its economic model to the "new normal", which values sustainability and social justice.
"I think 'new normal' is a sound analysis of the move from low cost exports to a managed market economy with global dimensions," said Perry, chairman of the British 48 Group Club, an independent business network committed to promoting links between Britain and China.
"There is a big set of interlinked policy initiatives which have been implemented and are working to create the basis for a new China which values sustainability, reasonable growth, care of the environment and a reasonable shared living standard and welfare state to assure the vulnerable," he said.