Cooperation with international agency helps nation bring back 'flies' and 'tigers' to justice
China's progress in anti-corruption leaves a very optimistic impression, said Martin Kreutner, dean and executive secretary of the International Anti-Corruption Academy.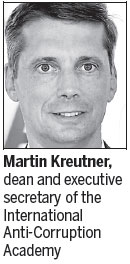 "From an external perspective, China goes not only for the flies but also for the tigers. This is important so that the people see that it's also the big fish that are ultimately held accountable to the rule of law and the legal framework," Kreutner told China Daily.
His comment came as the anti-corruption drive launched by the new Chinese leadership has produced powerful shock waves that have spread throughout the political system and society.
President Xi Jinping said in 2013 that it was as important to go after the "flies", or low-level officials, as it was to tackle the "tigers", or senior officials, in the battle against graft.
The Austria-based institution is an intergovernmental organization, established in March 2011. The United Nations Office on Drugs and Crime, the European Commission's Anti-Fraud Office, the Republic of Austria and other stakeholders were the driving forces behind it.
When it comes to the policies and measures for the fight against corruption in China, including cooperation with the Australian Federal Police in the seizure of corrupt officials' assets, Kreutner noted that "any cooperation between countries, including the one between Chinese authorities and the Australian Federal Police, has a high and promising potential to foster the global fight against corruption."
Corrupt Chinese officials who fled to Australia with bribes and embezzled money have been targeted by an unprecedented joint China-Australia police operation since November.
"Modern and comprehensive anti-corruption strategies are based upon a four-pronged approach: prevention, education, law enforcement and international cooperation, including asset recovery," he said.
The IACA has a unique dual character as an intergovernmental organization and postsecondary educational institution. So far, 63 parties and 53 signatories from around the world form part of its constituency. China joined the IACA in 2014.
"A strong global constituency attaches importance to the anti-corruption topic as well as our work in empowering professionals and helping stakeholders strengthen their anti-corruption regimes. Throughout our activities, we draw on the richness and fabric of our constituency and the diversities embodied in it," Kreutner said.
The academy's training portfolio provides the essentials of anti-corruption as well as the opportunity to gain more in-depth knowledge and hands-on experience in a range of sectors and areas. The IACA has trained professionals from more than 120 countries.
"We have had a number of Chinese participants in our programs and training over the years, coming from various sectors of society. What is more, for some of the programs, lecturers from China were also invited to present their experience and expertise," Kreutner said.
"If all the provisions of United Nations Convention Against Corruption are properly implemented in any country, this country would definitely be better off regarding its anti-corruption regime, and therefore also regarding social, economic and political prosperity," he said.
zhangchunyan@chinadaily.com.cn