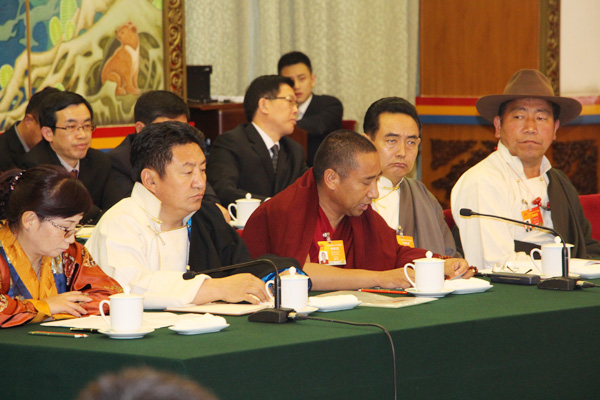 A Tibetan deputy answers a journalist's question. [Photo by Ma Chi/chinadaily.com.cn]
For a long time, the Tibet autonomous region has been a mysterious place to the outside world, especially for foreigners, but the "two sessions" is giving Tibet a chance to show its confidence and openness to the world.
Walking into Tibet Hall, one of the 36 rooms in the Great Hall of the People that represent the 36 provinces, autonomous regions and municipalities of China, I was totally amazed by the gorgeous paintings marked by strong Tibetan characteristics.
They set off the room from any other halls in the building with its unique culture.
I didn't expect to find so many foreign journalists in the hall, which shows the whole world wants to know more about the "roof of the world".
And the deputies did not let them down.
From improvement of Tibetan's lives to the protection of the beautiful and vulnerable environment, from the government's communication with the Dalai Lama and how the monks practice Tibetan Buddhism, deputies from all walks of life revealed what Tibet is like to the media.
But the most impressive Q & A was from an Associated Press reporter and Padma Choling, chairman of the Standing Committee of the Tibet autonomous region's People's Congress.
Asked when Tibet would lift the ban on foreign media visiting the region, Padma answered: "I don't know why you guys cannot enter Tibet, I can see a lot of foreigners on Lhasa's streets."
Hearing the answer, many reporters burst into laughter.
"You are welcome to visit Tibet, we are in the best time of history," Padma added.
I have been to Tibet myself and foreigners are commonly seen on the streets of Lhasa. And it gave me an impression that the city is a tourist city with global influence.