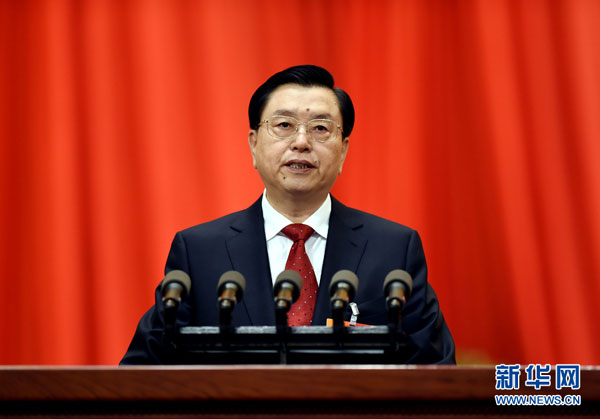 China's top legislator Zhang Dejiang delivers a work report at a a plenary meeting of the National People's Congress' annual session in Beijing March 8, 2014.[Photo/Xinhua]
What does the rule of law mean to the Chinese? How much attention did the revised Legislation Law draw? Which laws concern ordinary people the most? As the "two sessions" go underway to discuss the nation's laws, Xinhua news agency and Baidu Index work together to answer some of these questions using big data.
"Rule of law" now a buzzword
According to statistics from Baidu Index, the search for "rule of law" has increased every year from 2011. In 2014, it climbed to 367,807 searches, up from 229,007 in 2013, or a jump of 60 percent.
What needs to be pointed out is that Baidu Index not only measures the number of searches being made. It is a data-sharing platform based on the search behavior of numerous Baidu users. The index can tell us how a keyword has been searched on Baidu, as well as its fluctuation within a certain period of time and changes in the media's opinion.
So, the "rule of law" has drawn increasing attention during the past four years, and the diagram provided by Baidu shows that the search for the "rule of law", or Fazhi in Chinese, reached a peak around the Fourth Plenary Session of the 18th CPC Central Committee. The strategy of promoting rule of law in a comprehensive way drew the attention of people towards building a country ruled by law.
Now if you search for "rule of law" on Baidu's Web page there will be more than 100 million relevant results. On Baidu Baike, the Chinese answer to Wikipedia, the explanation of the rule of law goes that it is the fruit of civilization in the political sector, and the framework of a modern society. From a country's political system to personal speech and action, all should be subject to law. Modern China can truly achieve rule of law by subjecting the whole country, government and society to the law.
Legislation Law draws attention
The draft of the revised version of the Legislation Law was delivered to the National People's Congress for discussion on March 8. The law that rules the nation's lawmaking activities drew increasing attention in the past two years.
Statistics from Baidu Index suggest that "the Legislation Law", or Lifafa in Chinese, was searched for 297,954 times in 2013. This number climbed to 337,345 last year, a surge of 13.22 percent.
According to the diagram provided by Baidu that indicates the change of the search index, the search for the Legislation Law reached a peak during two discussion meetings of the NPC's standing committee for its revision in 2014.