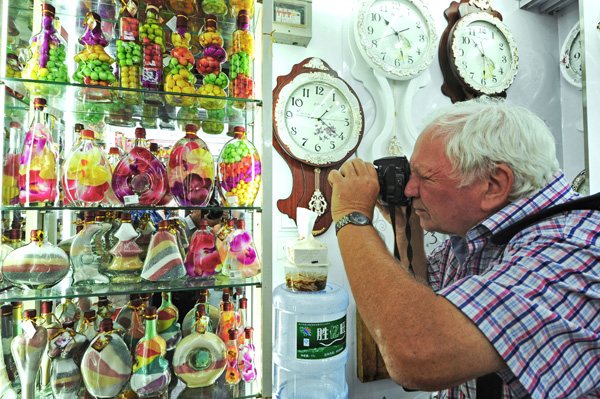 A businessman takes a photo of handicrafts in Yiwu, Zhejiang province. Yiwu is one of China's "boom cities" and is expected to play a big role in the Silk Road Economic Belt. Tan Jin / Xinhua
 China's proposals to build a modern-day trading route on the skeleton of the ancient merchants' trail have been welcomed by many regional powers, but misunderstandings have resulted in criticism as Zhao Shengnan reports.
After Premier Li Keqiang delivered his annual Government Work Report, Wojciech Jakobiec, first secretary of the Polish embassy in Beijing, said he was particularly happy to hear repeatedly references to ongoing Chinese initiatives to revive and modernize the ancient Silk Road trading routes.
"For us, the Silk Road Economic Belt is an especially important project, and we would like to participate in it," said Jakobiec.
Along with his embassy colleagues, Jakobiec was among a host of foreign diplomats who gathered at the Great Hall of the People on March 5 to hear Li's speech and glean hints on the future direction of Chinese development and diplomacy, which will have a huge global influence in the coming decade and beyond.
At a media briefing on Sunday, Foreign Minister Wang Yi said this year China's diplomats will focus on making all-around progress in the Silk Road Economic Belt and the 21st Century Maritime Silk Road initiatives. The priorities will to be the promotion of connectivity, and the construction of overland economic corridors and pillars of maritime cooperation. "We are confident that Belt and Road initiatives will win even more support and deliver even more early harvests," Wang said.
The "new Silk Road" initiatives, networks that will connect China with Europe via a host of Asian economies, have been hot topics at the ongoing meetings of China's top national legislative and consultative bodies, and have also served as flagship projects for Chinese diplomats, who have sought to highlight shared regional interests and reduce confrontation.
Opinion has been mixed, though. Some observers said the recent slew of proposals, especially those related to economic issues, will forge stronger bonds between China, the world's second-largest economy, and the other nations, and reinforce China's standing as a responsible global power.
Other shave warned that the ambitious strategy will take many years to become a reality, and that the potential for derailment exists over the long term, despite the remarkable progress been made since President Xi Jinping first out-lined the project less than two years ago.