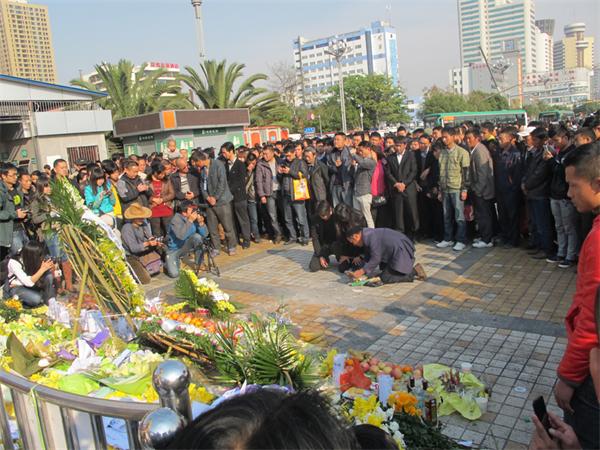 Relatives of victims are overcome with emotion at a wreath laying ceremony on March 7, 2014, at the train station in Kunming, Southwest China's Yunnan province, where 29 people were killed in a terrorist attack on March 1. [Photo by Xue Dan/China Daily]
Local officials are concerned about increasing attempts by extremist forces with global ambitions to penetrate China's northwestern frontier region, but they say they are equipped to deal with them.
Some of the officials are attending the annual National People's Congress session in Beijing, representing the Muslim communities in the Xinjiang Uygur autonomous region.
Zhang Chunxian, the autonomous region's top official, said the most effective weapons against extremism are a good culture, strict laws and law enforcement.
In Hotan prefecture, in southern Xinjiang, some people have been influenced by newly emerged foreign religious extremists, said Eziz Musar, the prefecture's commissioner.
That influence is also felt in some other parts of the autonomous region, he said.
External extremist forces use the Internet to spread their ideas, fan hatred and propagate terror, he said. Their messages are downloaded by a very small group of local people who use different communication tools to pass them on to others.
"Authorities have to put this extremist content on their watch list without delay and enforce the law by accelerating the crackdown on people who spread such illegal information," Eziz said.
Hotan is on Xinjiang's front line in the fight against religious extremism, which has spawned an increasing number of terrorist attacks in the region and other parts of China in recent years.
Eziz said he will propose in this year's NPC that China enact legislation against extremism.
Xinjiang has made notable progress in eliminating religious extremism since it revised a regional regulation on religious affairs in January. "People can now draw a clear line between legal and illegal religious activities," he said.
Merdan Muget, commissioner of southern Xinjiang's Aksu prefecture, said the region must face the stern reality of the newly religious extremist forces from the Middle East trying to reach out to the region, because it has a large Muslim population and some who have not seen major improvements in their daily lives may be vulnerable to their message.
"There will always be new seeds of extremism spreading to Xinjiang one way or another. The key is to make sure the region doesn't have the soil to support their growth," he said.
According to a recent Xinjiang Academy of Social Sciences report, villages in underdeveloped corners, where people lack a good basic and religious education, are the most likely targets for extremist penetration.
"We must do our best to provide for the villagers' needs and answer their demands. People are more easily manipulated by the extremists when they are unhappy," said Ismayil Metiniaz, Party chief of Amanxia, a village in east Xinjiang's Shanshan county.
Most of the video and audio propaganda promoting terrorism is brought to his village by outsiders who don't stay long, Ismayil said. "So we provide villagers with lessons about the original spirit of the religion and law."