Editor's Note: As an important foundation of a modern nation, ruling the country by law has been made a top priority by the government. To make every Chinese "bask in the sunshine of fairness and justice", numerous people have made their contribution. Among them are lawyers, judges, journalists, and scholars. Here, we take a look at some of them who have left their mark on China's road to justice.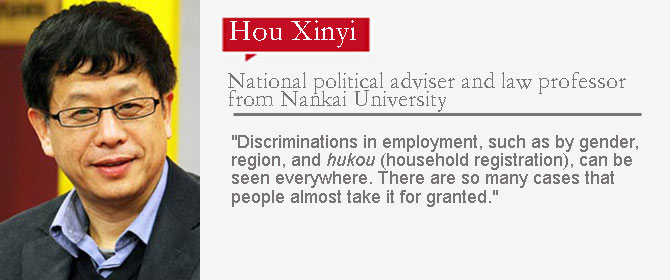 For law professor Hou Xinyi, the designation of Constitution Day in 2014 was the culmination of his years of efforts.
Ever since Hou became a member of the National Committee of the Chinese People's Political Consultative Conference (CPPCC) in 2008, he had made proposals to designate a constitution festival in the country.
"Though we had called for the rule of law for a long time, public awareness was still weak," Hou said when talking about his intentions. "Many people didn't even know what the constitution was."
Setting aside a day to commemorate it will get people to attach importance to it, Hou said.
In 2014, China's top legislature designated December 4 as Constitution Day amid efforts to enhance the document's implementation and advance the rule of law.
"I was glad to see the news anyway. After all, my proposals were kind of adopted," Hou said.
A "day" is not as influential as a "festival", according to Hou, adding it's still of great significance for the journey towards the rule of law.
Hou said the first year few media outlets reported his proposal and all the comments on the Internet were negative. "Compared with the official and public reactions at the beginning, I can see people's awareness of the rule of law has been much improved," he said.
In Hou's eight-year career as a CPPCC member, he has been doing his part in promoting the rule of law.
"Every year, my proposals will focus on the rule of law and education," said Hou, a professor in Nankai University School of Law.
"One of my proposals was about abolishing the laojiao system," Hou said. "Though the reform was actually pushed by lots of people, I feel proud to have participated in it."