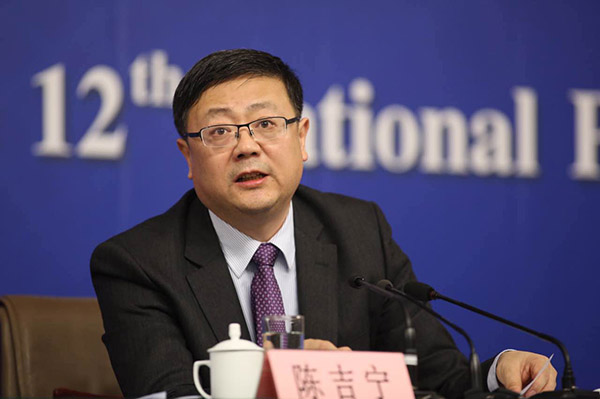 China's Environmental Protection Minister Chen Jining listens to a question at a press conference on the sidelines of the ongoing annual session of the National People's Congress, China's top legislature, in Beijing, March 7, 2015. [Photo by Wang Jing/chinadaily.com.cn]
BEIJING - For China's academic-turned environment chief Chen Jining, the first thing to consider after waking up every morning is no longer his students, but the color of the sky.
The new Chinese environmental protection minister, who was appointed last week, is tasked with spearheading his country's uphill drive to resolve a conflict between environmental protection and economic development that he has described as "unprecedented in human history."
One year after the world's second-largest economy "declared war" on the pollution that has taken a heavy toll on its air, water and soil during its three-decade dash for growth, Chinese leaders are resolved to alleviate the environmental woes.
On Friday, President Xi Jinping asked Chinese people to protect the environment like "caring for one's own eyes and life."
"We are going to punish, with an iron hand, any violators who destroy ecology or environment, with no exceptions," said Xi while reviewing the work report of the State Council together with National People's Congress (NPC) deputies from Jiangxi Province.
In his annual report at the National People's Congress (NPC), Premier Li Keqiang compared pollution to "a blight on people's quality of life" and promised that the world's biggest emitter of carbon dioxide will cut such emissions by at least 3.1 percent this year.
On Saturday, Chen, a 51-year-old environmental scientist and former president of the prestigious Tsinghua University, echoed the leaders' rhetoric and gave his suggestions for easing the development-environment conflict that he believes is more severe than that Germany and Japan faced in their early industrialization.
He pledged tougher environmental law enforcement, innovation and market leverage to help the world's most populous country cut pollution.
The environmental issues "cannot be addressed with undue haste, but neither should they be allowed to go unchecked," he told a press conference on the sidelines of the country's ongoing NPC session.