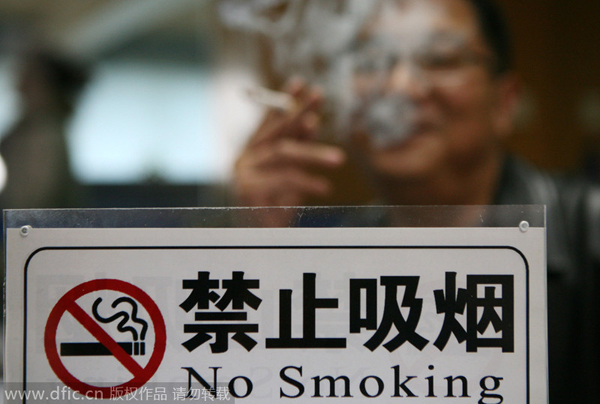 A man smokes a cigarette near a no-smoking sign in Huai'an, Jiangsu province, on Nov 25, 2014.[Photo/IC]
A national political adviser proposed to raise the price of cigarettes and the tobacco tax rate by 30 percent to reduce smoking, the Beijing Morning Post reported on Saturday.
Zhao Ping, former president of the Cancer Hospital under the Chinese Academy of Medical Sciences, was quoted as saying that if the price of cigarettes goes up by 30 percent, 50 percent of smokers will reduce their smoking habits.
The price should be raised by at least 30 percent, and a 50 percent rise would be even better, he said. "It was a practice used by the United States to help people quit smoking."
More than 3 million Chinese die prematurely each year from diseases that are largely preventable, according to a report released early this year by the World Health Organization.
More than 1 million of these annual deaths are attributed to tobacco-smoking. Chinese and foreign experts said the number of smoking deaths could triple by 2030.
Low-grade cigarettes can be had for 3 yuan (49 cents) a pack in China, the world's largest cigarette market. China has 300 million smokers; the US has an estimated 60 million.
Serbia tops the smokers-per-capita list, and the Japanese and South Koreans also puff a bit more than the Chinese.