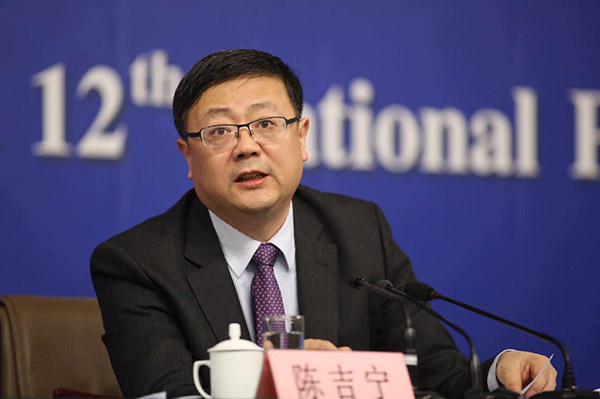 China's Environmental Protection Minister Chen Jining listens to a question at a press conference on the sidelines of the ongoing annual session of the National People's Congress, China's top legislature, in Beijing, March 7, 2015. [Photo by Wang Jing/chinadaily.com.cn]
New environment minister impresses with English phrases
China's newly-appointed minister of the environment proved he's worth waiting for when he spontaneously burst into English at a press conference on Saturday.
Chen Jining, former president of the prestigious Tsinghua University, took the new job one week ago. With air pollution a major concern of the public, it's natural that people have high expectations from the new minister.
In a room packed with reporters, the environmental scientist didn't disappoint when he spouted several English phrases.
The environmental protection law should be more than "a piece of paper", said Chen.
Answering a question about paraxylene projects, he used the phrase "not in my backyard" to refer to some people's opposition to heavily polluting projects.
"Prevention, prevention, prevention", said the minister, calling for preemptive measures to ward off pollution.