Advisers and legislators highlight problems that hamper lawyers during meetings with clients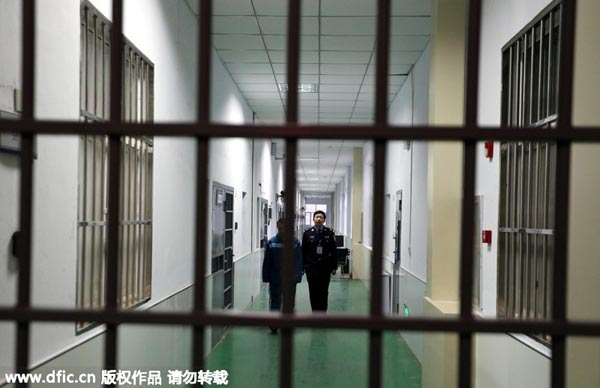 A detention center in Yuncheng city, Shanxi province, Feb 18, 2015. [Photo/IC]
Facilities in some detention centers need to be improved and suspects should be given better protection while in custody, according to political advisers and legislators attending the two sessions.
Last year, the country's leadership highlighted the importance of the rule of law, and this led to a greater focus on residents' property and personal rights and improvements to facilities in courts, said Shi Jie, an adviser from Sichuan province.

But the standard of conditions in detention centers and the level of protection given to suspects were sometimes ignored as the nation pushed forward judicial reforms, Shi told the country's top political advisory body on Tuesday.
"Facilities in many detention centers in Sichuan are out of date," he said, giving a center in Chengdu, the province's capital, as an example.
"Space where lawyers can meet suspects is limited," he said. "The 12 rooms have to accommodate more than 80 attorneys every day, and the tables and chairs are shabby."
Shi, a lawyer, said he often had to wait for long periods outside the center because of the shortage of rooms, even when he had made an appointment to meet clients.
"There are no heaters or fans in the rooms, which is not good when lawyers are talking to suspects. A good environment for meetings is a necessity to ensure justice.
"The center has reduced the length of meetings, often to 30 minutes, because of the small amount of space and large number of appointments. It is not long enough for us to obtain basic information from clients, let alone give them better representation," he said.
He called for improvements to detention centers, especially those in rural areas, at the annual session of the 12th Chinese People's Political Consultative Conference.
Cai Xue'en, a deputy of the National People's Congress who works as a lawyer in Hubei province, said rooms should be provided in rural detention centers where lawyers can meet clients and take a break.
Chen Shu, an NPC deputy from Guangdong province, said lawyers are often separated from their clients by glass screens, an arrangement that contravenes the Criminal Procedure Law.
Chen said more training should be given to custody officers in rural areas, and a law relating to detention centers that was proposed a few years ago should be pushed forward this year.
Luo Wangshu contributed to this story.