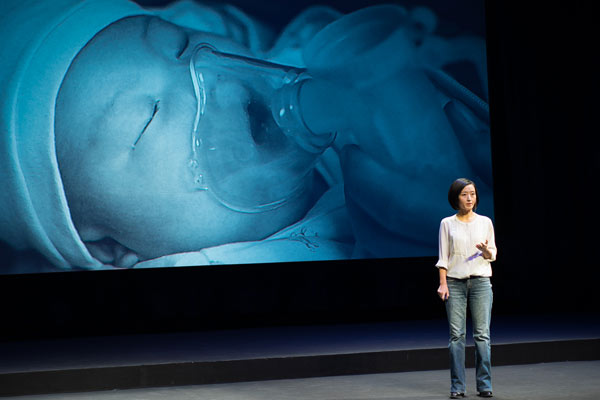 Chai Jing, a former anchor and reporter with China Central Television, makes presentations in her documentary Under the Dome. Liuming / CFP
New head of national environment watchdog among those who made film a hit on Internet
A documentary about air pollution has gone viral online, attracting more than 100 million viewers within 24 hours, including the new head of the national environmental watchdog.
Pollution is expected to be a hot topic as more than 5,000 legislators and political advisers gather to attend the two sessions.
Chai Jing, a former reporter and anchor at China Central Television, spent more than 1 million yuan ($160,000) on making Under the Dome. The documentary took a year to produce and was made public through domestic video websites on Saturday.
The 103-minute film is divided into three sections - what smog is, what causes the heavy smog in China, and what can be done to control it.
Field research and interviews are used to highlight the causes of the problem. Chai says these include toothless supervision by environmental protection bodies, large-scale consumption of coal in the steel industry and other polluting sectors, the lenient penalties that are imposed on polluters, and the low quality of gas and oil.
She interviewed environmental protection and economic planning officials as well as their counterparts in Britain and the United States, managers of domestic energy corporations and environment experts.
The documentary had been seen 100 million times by 9 am on Sunday, less than 24 hours after its launch, according to a report in China Youth Daily.
Among the millions of viewers was Chen Jining, who has just taken office as minister of environmental protection.
Chen said: "The documentary reflects growing public concern over environmental protection and threats to human health. It should encourage efforts by individuals to improve air quality."
Environment experts agreed that the documentary will have a positive impact on public awareness.
The forthright explanations of the causes of pollution, which Chai says include poor management by governments, drew public support.
Xie Shaodong, a professor of environmental studies at Peking University, said, "It's instructive for people to get an overall picture of the issue, it promotes public participation in efforts to control the problem."
Xie's team contributed material to the documentary.
Wang Canfa, a professor of environmental law at the China University of Political Science and Law, said Chai should have paid more attention to the legal system as it applies to the environment.