Xi calls for closer G20 ties to boost world economy
Updated: 2013-09-06 04:54
(Xinhua)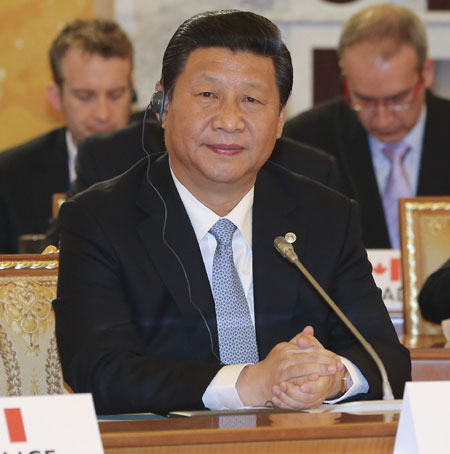 President Xi Jinping delivers a speech on Thursday at the eighth G20 summit in St Petersburg, Russia. [Photo/Xinhua] 
ST PETERSBURG - Chinese President Xi Jinping on Thursday urged Group of 20 (G20) members to build a closer partnership to shore up the world economy.
For that purpose, the world's major economies should first adopt a responsible macroeconomic policy, he said in a speech delivered at the eighth G20 summit in this Russian city.
All major economic entities have a minimum duty of keeping their own house in order, Xi said, adding that they also need to improve communication and coordination on macroeconomic policy.
China's economic fundamentals are sound, and its economic policy is responsible for both China and the world, said the Chinese president.
China, he added, has realized that it has to advance structural reforms in order to solve the problems hindering its long-term economic development, even though it would mean slower growth.
China has the conditions and abilities to achieve a sustainable and sound economic development and create for other countries an even broader market and more development space, he added.
Meanwhile, the Chinese president urged G20 members to jointly maintain and promote the openness of the world economy and oppose all forms of trade protectionism.
G20 members, he added, should bolster a free, open and non-discriminatory multilateral trade system, and try to improve global investment rules.
In addition, Xi called on the participants to build the G20 platform into an important force for stabilizing the world economy, creating an international financial safety net and amending global economic governance.
Relevant parties should speed up the implementation of the reforms of the International Monetary Fund, and step up supervision on international financial markets to make the financial system truly rely on, serve and promote the development of the real economy.
He also proposed to enhance the connection among international and regional financial cooperation mechanisms and establish a firewall against financial risks.
China will firmly push forward reforms in order to guarantee a sustainable and healthy socioeconomic development, Xi said, adding that China will also work to boost the flexibility of the foreign exchange rate of the Chinese currency.
China, he added, will also create a fair legal environment for foreign firms doing business in China, and is ready to settle trade disputes with other nations through talks.
The Chinese president also urged all G20 members to increase the quality of their economic growth and enhance their competitiveness via structural reforms.
They should also balance their own interests with the interests of others and build a global marketplace that can bring benefits to all, Xi said.
Other participating leaders noted that the global economic recovery is at a critical stage and faces both challenges and opportunities.
G20 members, they said, need to promote policy coordination and cooperation, maintain the stability of international financial markets, and consolidate the foundation for a robust, sustainable and steady global economic growth.
This is the first time for Xi to attend a G20 summit. On the sidelines, he attended an informal leaders' meeting of the BRICS group, which also includes Brazil, Russia, India and South Africa. A series of bilateral meetings were also on his schedule.
The G20 groups Argentina, Australia, Brazil, Canada, China, France, Germany, India, Indonesia, Italy, Japan, Mexico, Russia, Saudi Arabia, South Africa, South Korea, Turkey, Britain, the United States as well as the European Union.
Forum: China's voice to be heard at G20 summit, what to expect?