Xi-Obama summit 'positive, constructive:' White House
Updated: 2013-06-09 13:20
(Xinhua)
RANCHO MIRAGE, United States - The first summit between US President Barack Obama and his Chinese counterpart Xi Jinping was "positive and constructive," and has achieved all the goals, a senior White House official said Saturday.
US President Barack Obama and Chinese President Xi Jinping talk as they tour the grounds at The Annenberg Retreat at Sunnylands in Rancho Mirage, California June 8, 2013. Xi and Obama held the second meeting on Saturday to exchange views on economic ties. [Photo/Xinhua]
Tom Donilon, Obama's national security advisor, said during a press briefing after the summit concluded here Saturday that the two presidents "had very good discussions" in a "uniquely informal atmosphere."
"The discussions were positive and constructive, wide-ranging and quite successful in achieving the goals that we set forth for this meeting," said Donilon.
The style, length, timing of the summit and the breadth of issues discussed "underscore the point that this is an important and unique meeting between the US President and the leader of China," said Donilon.
He added that the discussions "were quite strategic and covered virtually every aspect of the United States-China relationship," including economy, security, cyber and the situation on the Korean Peninsula.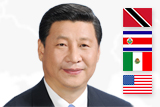 Xi and Obama held two rounds of talks from Friday to Saturday at Sunnylands, a 200-acre (81-hectare) Annenberg estate in Rancho Mirage, California, the first face-to-face meeting between them since the two countries completed their latest leadership transitions.