Xi, Obama reaffirm opposition to trade protectionism
Updated: 2013-06-09 12:13
(Xinhua)
INDIAN WELLS, United States - Chinese President Xi Jinping and his US counterpart Barack Obama on Saturday reaffirmed their commitment to trade and investment liberalization, and opposition to trade protectionism, said Chinese State Councilor Yang Jiechi.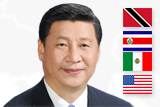 During their second meeting at Sunnylands estate, California, the two leaders devoted much of their talks to economic ties, which they agreed have vast space and huge potential for further growth, Yang told reporters.
The two sides also agreed to maintain coordination and cooperation under the frameworks like the Group of 20, the Asia Pacific Economic Cooperation (APEC) forum, improve global economic governance, and jointly promote the strong, sustainable and balanced growth of global economy.
They vowed to exert the functions of existing mechanisms such as the China-US Strategic and Economic Dialogue, China-US Joint Commission on Commerce and Trade, and the China-US Governors Forum to enhance policy coordination and pragmatic cooperation.
Both sides hailed the recently-held 9th round of negotiations on a bilateral investment accord and agreed to create fair, transparent and stable policy frameworks for mutual investment. The Chinese side hopes that Washington will provide a fair environment for Chinese enterprises investing in the United States. They also agreed to expand trade and economic ties at local levels.
On trade frictions, both leaders agreed that dialogue and cooperation should serve as the way to handle such issues.
The Chinese side said the RMB yuan exchange rate is approaching the equilibrium segment, and Beijing will continue to pursue reform of the RMB exchange rate formation mechanism.
The Chinese side also pointed out that the RMB exchange rate is not the cause of the China-US trade imbalance.
Before heading into the meeting, the two leaders took a walk at the picturesque Sunnylands, a 200-acre (81-hectare) Annenberg estate in Rancho Mirage, California.
The two presidents held their first meeting and had a working dinner Friday, exchanging views on international and regional issues of common concern.
Xi arrived in California Thursday after wrapping up a three-nation Latin America tour.