US-China ties on new level: author
Updated: 2013-06-09 02:26
By CHEN WEIHUA in Washington (China Daily)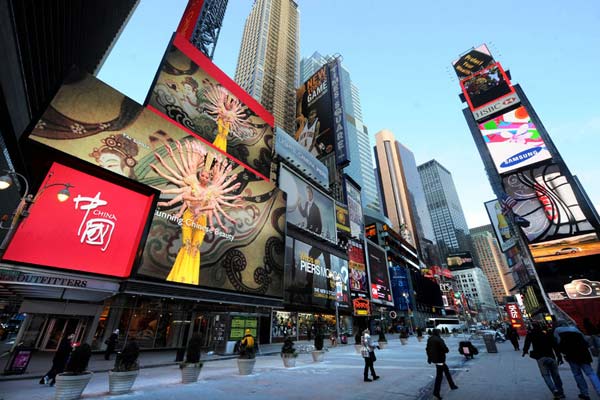 A giant screen displays a promotional film about China at the Times Square, New York, in 2011. China and the United States have strengthened cultural exchanges in recent years. Xinhua 
One of the smartest things the Obama administration did in 2012 was to invite then-Chinese Vice-President Xi Jinping for an extensive visit to the United States, and the most important thing Xi said when he came was that the two countries should develop a "new type of greater power relationship".

Those are the conclusions of Nicholas Lardy, author of several books on the Chinese economy, as this week's summit meeting in California of the two presidents is held.
Xi paid a five-day visit in February last year at the invitation of US Vice-President Joe Biden. The trip took him not only to Washington, but also Muscatine, Iowa, where Xi visited and stayed in the mid 1980s as a county leader from Hebei province, and to Los Angeles, where he watched a Lakers' basketball game, in addition to attending an economic and trade forum.
Lardy said that trip gave Americans a much better sense of what Xi is like as a person.
"President Obama has lost no time maintaining the relationship," said Lardy, a senior fellow at the Peterson Institute for International Economics in Washington. He was referring to the trips to China in the past two months by Secretary of State John Kerry, Chairman of the Joint Chiefs of Staff Martin Dempsey, Secretary of Treasury Jack Lew and National Security Adviser Tom Donilon.
In a talk with his colleague Steven Weisman posted on the Peterson Institute's website, Lardy praised Obama for immediately calling Xi to congratulate him on becoming president and to "put the relationship on a new level".
Lardy said when Xi said the US and China should develop a new type of relationship, Xi didn't exactly say what it was.
"I think the meeting in California will begin to flash that out," Lardy said.