Hanban ties up with University of West Indies
Updated: 2013-06-03 01:42
By Cheng Yingqi (China Daily)
Hanban, the Confucius Institute program headquarters, signed a cooperation agreement with a university in the Republic of Trinidad and Tobago on Saturday.
The University of the West Indies at St. Augustine will provide a 300-square-meter office space, 10 multimedia classrooms and a small auditorium for the country's first Confucius Institute.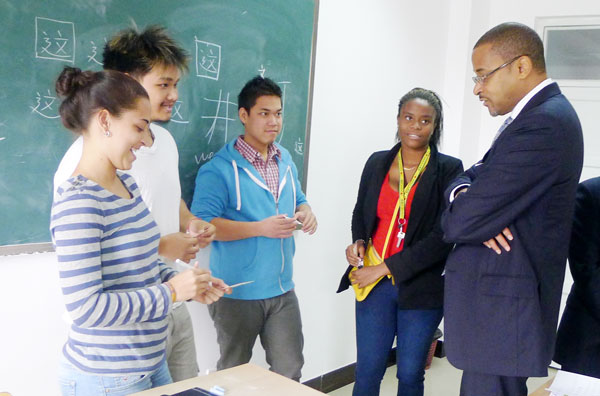 Courtenay Rattray (right), Jamaica's ambassador to China, talks to Confucius Institute scholarship recipients at the Taiyuan University of Technology in September 2012. Provided to China Daily
Hanban has been cooperating with the university's St. Augustine campus since 2005. It has sent one Mandarin teacher to the university and granted a scholarship to a student from its language center, which provided Mandarin courses to more than 200 non-language majors since 2010.
Thirteen Confucius Institutes have been built in seven Caribbean nations since 2005, and 262 Mandarin teachers and volunteers have been sent to the region.
The University of the West Indies, established in 1948, offers higher education mainly to countries of the Commonwealth Caribbean, such as Jamaica, the Bahamas and Dominica. UWI currently has three campuses: Cave Hill in Barbados, Mona in Jamaica and St. Augustine in Trinidad and Tobago.
In February 2009, Xi Jinping, then China's vice-president, attended the opening ceremony of the Mona Confucius Institute in Jamaica.
The institute offers courses in Chinese calligraphy and tai chi and has shown Chinese films for students every month since 2010.
Richard Lue, a 20-year-old student from Jamaica who won a scholarship for 10 months of study in China, said studying at the institute helped him very much.
"My parents were Chinese-Jamaican, but they speak little Mandarin, so they sent me to the Confucius Institute to learn. They said China is one of the fastest-growing countries in the world so I should study Mandarin really hard," Lue said.
After studying for two years at the Mona Confucius Institute, Lue passed HSK-4, which is a basic requirement for applying for the scholarship, and won the chance for a study program at the Taiyuan University of Technology.
"In Jamaica, we used pinyin to learn Mandarin, but after coming to China, I learned to read and write Chinese characters in eight months," he said.
Lue said he plans to set up a trading business with China after he returns home.
Most other Jamaican students, however, are learning Mandarin purely out of interest, said Zhao Anyuan, Party chief of the College of International Education Exchange of the Taiyuan University of Technology.
UWI Mona currently offers Mandarin in credit courses and has also helped two high schools in Jamaica start their own Mandarin course. It also holds training sessions for non-academic students.
"The work that we do is meaningful for those who have an interest in China, an interest in expanding their horizons and stepping out into a wider global experience," said Courtney Hogarth, director of the Confucius Institute at UWI Mona.
"The fact that we are able - through scholarships from Hanban - to send students to China for differing periods of time to hone their Mandarin skills is something that is significant.
"This means that individuals do not learn in a vacuum, have the opportunity to put their language skills to use, and get in touch with a wider, disparate culture," he said.
Lu Shaogang, Chinese director of the Confucius Institute at UWI Mona, said the most meaningful job for the institute is to allow as many Jamaicans as possible to get to know the real China by sending them to the country.
"Living in a small, isolated island with a population of 2.7 million, most Jamaicans learn about China only through Western media. That is why they were surprised by what they saw and heard in China," he said.