Live report: 7.0-magnitude quake hits SW China's Sichuan
Updated: 2013-04-20 16:18
(chinadaily.com.cn)
| | | | | | | | | | | |
| --- | --- | --- | --- | --- | --- | --- | --- | --- | --- | --- |
|   | | Comments() | | Print | | Mail | | Large Medium  Small | 分享按钮 | 0 |
12:22
Frontline: A doctor's diary
Ling Feng, head of neurosurgery at Beijing's Xuanwu Hospital.
Premier Li Keqiang visited West China Hospital in Chengdu at 10 am this morning to check in on people injured in the earthquake and medial workers.
He asked me why I was also working here. I replied: "I arrived here yesterday. Thank you for caring about the medical workers; we all support the medical reform."
Premier Li said the nation is grateful to medical experts for helping the injured, and he urged me to take care. He shook also hands with doctors and nurses, and waved to those around him.
I felt he is kind, very accessible, and a man of the people. This will make people more confident.
12:08
According to CCTV reports, China Meteorological Administration said rainfall is predicted in the disaster areas in next few days and yellow, orange and red geological hazard warnings have been sent out. National Administration of Surveying, Mapping and Geoinformation also confirmed that some of the towns are quite likely to suffer from geological disasters.
11:56
The earthquake in southwest China's Sichuan Province has killed 180 people and injured 11,227 others, the provincial emergency response command center announced on Sunday.
Twenty-four people are reported missing.
A 7.0-magnitude quake jolted Lushan County of Sichuan's Ya'an City at 8:02 a.m. Saturday Beijing Time, according to the China Earthquake Networks Center.
Some 1,165 aftershocks have been detected, with the biggest one being 5.8 magnitude, the center said.
11:52
The local government of Lushan county started to help disaster victims by sending out relief fund (on Sunday noon). The standard of allowance is the same as the 2008 earthquake in Wenchuan. Each person affected by the quake would receive 10 yuan and half kilogram grain per day for six months. About 600-700 prefabricated houses, each of which is 90 square meters, are in need. In the meantime, the local education department began to assess dangerous school buildings in order to resume classes as soon as possible.
11:33
China Central Television urged volunteers not to enter Baoxing county, saying that the only 18-kilometer road available now becomes very narrow after the quake, and could have landslides at any minute.
11:13
Electricity, water and fuel gas have all been cut off in Baoxing county, Ya'an city after the quake, Xinhua News Agency reported. All the houses in the county have been damaged, including the buildings restored after Wenchuan Earthquake in 2008. Roads into the county are blocked. Not enough food and water is left after a round of distribution. Locals are needing as many tents as possible.
11:09
Photos by People's Daily show Premier Li Keqiang visiting the injured at a hospital in Ya'an, Sichuan province. Li told the injured not to worry about medical cost.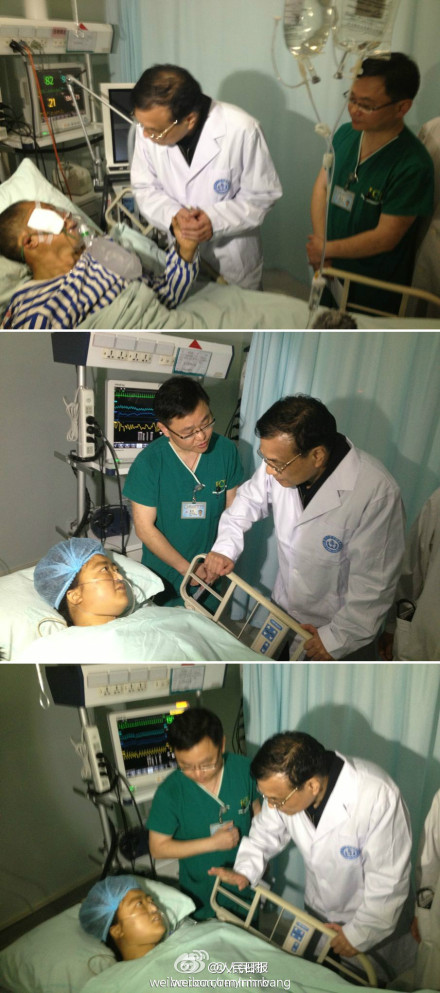 10:50
Relief vehicles are stuck in a traffic jam on the way from Ya'an city to Lushan county, with cars lining up 7 kilometers. Rescue teams from Beijing have to march on foot to the severely-hit county from Ya'an city 60 kilometers away due to the severe congestion from Ya'an to Lushan. At the same time, roads leading to Lushan from Yingjing county is also in serious congestion, making all the rescue and electric repair vehicles stuck.
10:20
A medical team of orthopedic doctors at Beijing Jishuitan Hospital arrived at Ya'an at 5 pm on Saturday, and started assessment of victims in Ya'an People's Hospital to decide where and how to conduct surgery for them.
Another team of 27 doctors from Beijing, including those from the departments of surgery, pediatrics, anesthetics, emergency aid and hospital infection control also arrived in Ya'an.
10:18
Internet users have expressed sympathy and conveyed condolences to the quake-hit Sichuan province. Following is a collection of message on social networking websites.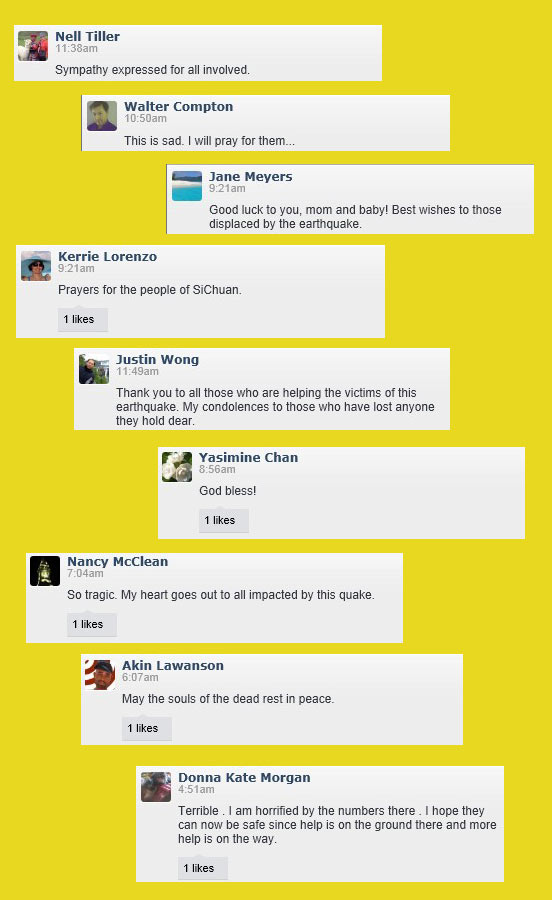 10:13
Altogether 179 people have been killed in the 7.0-magnitude earthquake in southwest China's Sichuan Province, the China Earthquake Administration announced Sunday.
Of them, 164 were reported in Sichuan's Ya'an City, the administration said.
The quake hit Lushan County of Ya'an at 8:02 a.m. Saturday Beijing Time, according to the China Earthquake Networks Center.
10:10
Power has started to be restored in the three counties hit severely by the earthquake on Sunday, State Grid said. More than 13,000 families in Lushan country got electricity again, accounting for 42 percent of the whole households affected by the power outrage after the severe earthquake on Saturday morning.
About 71 percent of affected families in Tianquan county restored power as well. The 100 important users including the hospitals and shelters for victims are able to use electricity in Baoxing county, which is cut off from the rescue due to the landslides on the road.