Premier says shared interests between nations should override disputes
Premier Li Keqiang on Sunday said China is committed to world peace and stability, amid speculation that a stronger China might become more assertive.
In his media debut with nearly 1,000 reporters and cameramen as the premier of the world's second-largest economy, Li also pledged stronger ties with major powers, including the United States and Russia.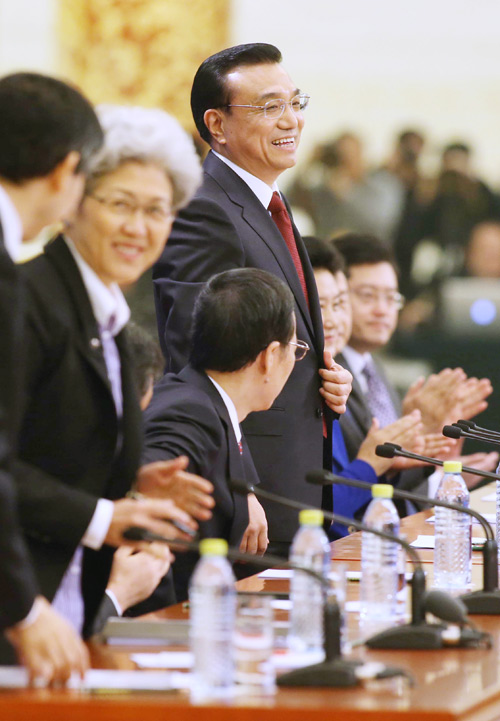 Li Keqiang makes his media debut as premier on Sunday in Beijing. Wu Zhiyi / China Daily
China is capable of achieving sustainable economic development and a stronger China will not seek hegemony, Li told a press conference following the conclusion of the annual national legislative session on Sunday.
"There are more than 1.3 billion people in China and we are still on a long journey towards modernization," he said.
Li's quotes
"We should not make groundless accusations against each other and should spend more time doing practical things that will contribute to cybersecurity."
On accusation of Chinese hacker attacks against the United States
"We will upgrade China's economic development model to enable people to enjoy clean air and safe drinking water and food."
On tackling pollution and food safety problems
"There are more than 1.3 billion people in this country, and we are still on a long journey toward modernization. That requires an international environment of lasting peace."
On sustainable development
"Hong Kong compatriots are hardworking and smart. Hong Kong society is open, inclusive and vigorous."
On cooperation between the mainland and Hong Kong
"In a country as vast as China, we have a lot of tasks to fulfill. As for the most important one, I think it is to facilitate the continuous growth of the economy."
On top tasks of the new cabinet
"We will be true to the Constitution and loyal to the people, and the people's wish will point the direction of our government's efforts."
On serving the people and Constitution
Xinhua
"That requires an international environment of lasting peace. Even if China becomes stronger, we will not seek hegemony."
He added though that China will defend its sovereignty and territory.
Responding to questions from a US reporter on China-US ties, Li said the Chinese government is committed to maintaining strong relations between the world's largest and second-largest economies despite differences.
Trade between China and the US has risen from $1 billion 30 years ago to more than $500 billion last year, but the two countries continue to disagree over many issues.
The pivot to Asia by the US, which some regard as a strategy to contain China's growing influence in the region, has led to tension. But Li said the US and China have more shared interests in the Asia-Pacific region than differences.
"I don't believe conflicts between big powers are inevitable," he said. "Shared interests often override their disputes."
Asked about Sino-Russian relations, Li said that in addition to strong political trust, more practical cooperation is needed to boost trade, which currently stands at $80 billion a year.
Li's remarks echoed President Xi Jinping's pledge that China will adhere to a road of peaceful development, as well as a policy of mutually beneficial cooperation, at the closing ceremony of the first session of the 12th National People's Congress.
While the concept of "peaceful development" is not new among Chinese leaders, China's steady economic rise has caused anxiety in some countries in recent years.
Zhang Tuosheng, a researcher at the China Foundation for International and Strategic Studies, said the past two years have seen a rising number of voices talking about the "China threat," driven by friction with neighboring Asian countries, territorial disputes and disagreements with the US.
"China's rapid economic and defense budget growth present substantial changes," he said. "It is understandable that people fear that the development of a large country will challenge the existing international order and the interests of major powers."
But China's drive for growth will be easier in a peaceful environment than in one fraught with tension, he added.
Other countries' concerns over China's territorial and economic issues have become major challenges for Chinese diplomacy, he said.
"If China can solve those frictions, it will make the 'China threat' notion bankrupt," he said.
Dong Manyuan, vice-president of the China Institute of International Studies, said safeguarding China's territorial sovereignty is not just an issue that matters to 1.3 billion Chinese, but also serves "the world's interests."
"China is an integral part of the world, and they share a common fate," he said. "China's peaceful development is providing opportunities for the world and helping achieve a win-win situation."
Putting "peaceful development" and "safeguarding sovereignty" together and elaborating on the two non-conflicting, parallel concepts is a major highlight of Premier Li's speech, he added.
Zhang Tuosheng also suggested that the US and China should step out of the malicious "zero sum game" they are in and added that issues in the Asia-Pacific region are the cornerstone to doing this and establishing a new type of relationship.
If the US and China fail to manage their overlapping interests in the Asia-Pacific region well, tension will continue, said Tao Wenzhao, a senior researcher on US studies at the Chinese Academy of Social Sciences.
The Asia-Pacific region should be a platform for cooperation between the two countries rather than a source of problems, he added.
Xinhua contributed to this story.
Contact the writers at zhangyunbi@chinadaily.com.cn and wujiao@chinadaily.com.cn