BEIJING - The new lineup of the State Council, nominated by Premier Li Keqiang, was endorsed on Saturday by nearly 3,000 lawmakers at the first session of the 12th National People's Congress (NPC), the country's top legislature.    
Zhang Gaoli, Liu Yandong, Wang Yang and Ma Kai were endorsed as vice-premiers, with Yang Jing, Chang Wanquan, Yang Jiechi, Guo Shengkun and Wang Yong as State Councilors.    
The nine senior leaders, alongside Premier Li, make up the leadership of the State Council, China's Cabinet.    
They will strive to promote the sustained and healthy economic and social development of the world's largest developing country over the next five years. They will tackle problems, as well as formulate and carry out policies, in an effort to achieve the national goal of building a moderately prosperous society in all respects.    
According to Chinese law, the premier will lead the work of the State Council and be assisted by vice-premiers and State Councilors. State Councilors are authorized by the premier to oversee certain government portfolios and can represent the State Council in foreign affairs.
Zhang Gaoli: A reformer who treasures comments of people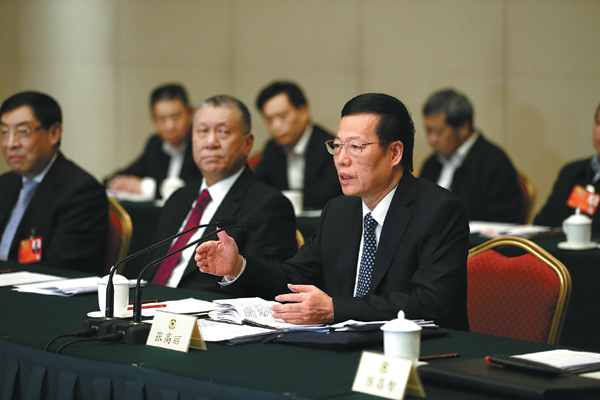 Zhang Gaoli (right) at a panel discussion during the annual session of the CPPCC in Beijing on March 4. [Photo/Xinhua]
"The value of my work is only determined by the people's opinions." This is the criterion Zhang Gaoli has held himself to throughout his political career.    
The 66-year-old first-ranked vice-premier, with his background in economics and decades-long experience holding different posts in the country's booming coastal regions, now has the chance to better serve the country by promoting reform and opening up.    
Before becoming a member of the Standing Committee of the  Political Bureau of the Communist Party of China (CPC) Central Committee at the 18th CPC National Congress held last November, Zhang served as Party secretary of north China's port city of Tianjin for more than five years.    
During a discussion with national legislators from Tianjin held on March 6 during the NPC's annual session, the former municipal leader was asked about his work since leaving the city's office in late November.  
Zhang said he has been busy with jobs the CPC Central Committee has assigned to him, even busier than in Tianjin.    
"One will never know the difficulty of doing unless one has done it himself," Zhang cited a Chinese proverb when commenting on the country's reform and opening up.    
"It is only through reform and opening up that China has its present and its future," he said. "Only through reform and opening up can we achieve the Chinese dream of the great rejuvenation of the Chinese nation." Zhang has given great significance to reform when dealing with challenges and problems in his own work.    
In the 1980s, when he was deputy governor in charge of public transport and infrastructure in south China's Guangdong Province, Zhang paved the way for the country's first electricity pricing reforms, a move that helped alleviate a widespread power crunch.    
In the 1990s, Zhang negotiated with the nation's nuclear authorities multiple times before creating a provincial scheme for developing nuclear power.    
When serving concurrently as Guangdong's provincial leader and Party secretary of Shenzhen, a frontier for China's reform and opening up, Zhang led the city's land transfer reform in 1998 and strengthened cooperation between the province and the neighboring Hong Kong and Macao Special Administrative Regions.    
In his 10-year tenure as Guangdong's vice-governor and executive vice-governor, Zhang presided over and joined negotiations concerning a number of major projects, making contributions to the province's development and opening up.
"Reform and opening up has entered a crucial stage," Zhang told legislators from Tianjin. "We must take active yet prudent steps to promote reforms in taxation, finance, distribution and government administration with greater determination, courage and wisdom."    
In discussions with national legislators and political advisors, Zhang took notes while listening and at times chipped in. "Don't repeat what the books say," he said, welcoming them to make comments and suggestions.    
While fostering an amiable atmosphere at the panels, Zhang often revealed his rigorous economic training in analysis of various economic issues, citing statistics from home and abroad.    
The key for development now lies in policy implementation, as the central government has made the correct decisions and arrangements, he said.