Country life
Chang Haixia, 26, said a lack of employment opportunities helped push her to apply for a post as a village official. Times were hard when she graduated from college in 2009. "It was during the global financial crisis. Jobs were hard to find and being a village official was a relatively easier option," she said.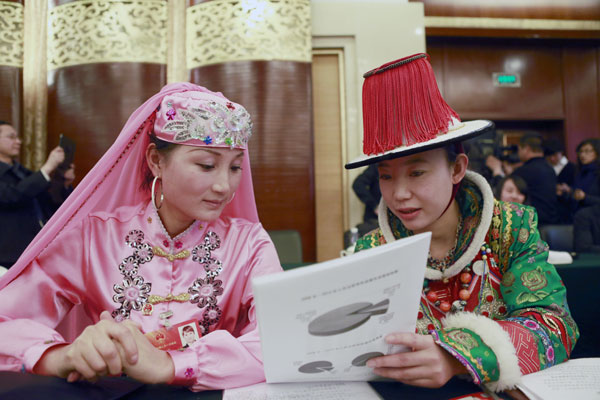 NPC deputy Chang Haixia (right), an assistant to the village chief at Xusanwan village in Gansu province, discusses the government report with her colleague Ma Xuehua. Feng Yongbin / China Daily
Chang, who is assistant to the village chief at Xusanwan village in Gansu province, was two months pregnant when she arrived in Beijing for the annual NPC session and, unlike most of her former classmates, the Lanzhou University of Technology finance graduate dislikes city life, which is partly why she decided to work in a village.
Her teacher recommended that, after graduation, the entire class should work as interns at an insurance company for a month. "First, we received training on how to talk to people, and then we were sent into the streets to persuade passersby to buy insurance plans. Some of my classmates succeeded, but I didn't like it," she said.
Still, she would prefer to work as a civil servant, so as soon as she became a village official she unsuccessfully took two provincial exams for admission to the civil service,
The most difficult part of her routine in the village is persuading the residents to join the social insurance system for the aged in rural areas. "Some were worried that they wouldn't benefit from the system in later life. I went to their homes, even though some pretended not to be at home. I explained the policy to them and told them it was for their own good," she said.
"Sometimes this job can be really rewarding, but sometimes it's just frustrating."
Contact the writers at cuijia@chinadaily.com.cn, xindingding@chinadaily.com.cn and weitian@chinadaily.com.cn