Contribution made decades ago still a source of pride, report Cui Jia, Wei Tian and Xin Dingding in Shaanxi and Beijing.
On a sunny afternoon, Zhang Qiang took a walk along the dirt road leading to the home of a villager who lives in a cave-house scooped out of the yellow hills of Liangjiahe village in Shaanxi province. "Xi Jinping probably walked along this same road when he was Party chief here," said Zhang, referring to the newly elected president, who took the reins of power on Thursday.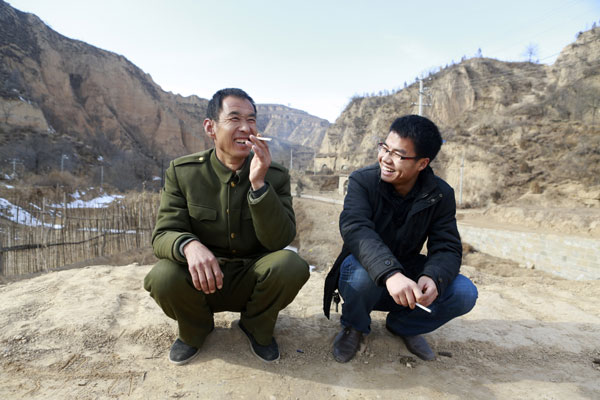 Zhang Qiang (right) talks with a resident of Liangjiahe village in Shaanxi province. Zhang is one of 300,000 college graduates who have become village officials since China launched a nationwide program in 2009. He is now assistant to the village Party chief. Feng Yongbin / China Daily
The village of just 360 residents gained national fame when Xi was appointed leader of the Communist Party of China last year. China's new president first arrived in Liangjiahe, which lies in a narrow 1.7-km-long valley surrounded by yellow cliffs, in 1969 as a 16-year-old "educated youth", one of the millions of young Chinese who followed Chairman Mao's call for them to live in the countryside and learn from the farmers. Later, Xi was elected village Party chief, an experience Vice-Premier Li Keqiang shared as a village leader in Anhui province.
"By working as a village official here, I'm following in Xi's footsteps, which puts a lot of pressure on me," Zhang admitted. Although he comes from a hamlet near Liangjiahe, Zhang sat the exam for village officials in Shaanxi province in 2009, following his graduation from Shaanxi Vocational Police Institute with a law degree.
Hard facts
"Officials need to learn the hard facts about rural China so they can formulate practical policies. I was shocked when some officials who came to visit didn't even recognize corn," said the 28-year-old, who signed a second three-year-contract as assistant to the village Party chief late last year.
"Villagers need a firm leader like Xi, and so does China. Zhang is too nice and a bit soft when dealing with village affairs," said Liang Yongcheng. Aged 54, Liang vividly remembers working with Xi when he was just 14. Many of the village's more-mature residents also worked alongside China's new President. "Xi asked us to stick to the jobs we'd been assigned. He didn't like us to pick and choose," said Liang.
Xi is on record as saying that the two groups of people who have helped him most are China's older revolutionary generation and people in this Shaanxi village, where he lived almost half a century ago.
Farming is now prohibited on the terraced land at the top of the mountain where Xi once worked. The ban was imposed to enable the plant life to recover and prevent soil erosion and water loss. It's Zhang's job to ensure village residents receive their subsidy for loss of income.
Nowadays, most villagers have traded their old cave- houses for brick dwellings, although the traditional arched doorways remain. The cave-houses have mostly fallen into disrepair, wild grass has flourished and the old house fronts, composed of dried mud, have collapsed. However, the cave-house in which Xi lived for three years has been carefully maintained and group photos of him with the villagers hang on the wall, indicating the villagers' pride in their adopted son.
While in Liangjiahe, Xi helped to construct Shaanxi's first biogas system. For his part, Zhang built an online learning system for the villagers, so they could acquire knowledge about cultivating apple trees from regular online tutorials hosted by agriculture experts.
"At first, I printed out the tips about taking care of apple trees and handed them out to the villagers, but they just ignored them. Later, I discovered that it was much easier to pass on the information by introducing it in casual conversation with them," he said.