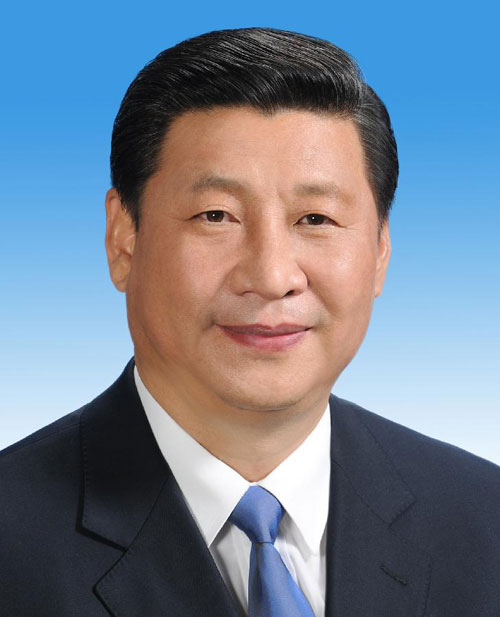 Xi Jinping is elected president of the People's Republic of China (PRC) and chairman of the Central Military Commission of the PRC at the fourth plenary meeting of the first session of the 12th National People's Congress (NPC) in Beijing, March 14, 2013. [Photo/Xinhua]
BEIJING - The following is the biographical sketch of Xi Jinping:
Xi Jinping, born in June 1953, is a male ethnic Han from Fuping, Shaanxi province. He entered the workforce in January 1969 and joined the Communist Party of China (CPC) in January 1974. He graduated from the School of Humanities and Social Sciences at Tsinghua University with a major in Marxist theory and ideological and political education, has an in-service postgraduate education and holds the degree of Doctor of Laws.
He is currently general secretary of the CPC Central Committee, chairman of the CPC Central Military Commission, president of the People's Republic of China (PRC), chairman of the PRC Central Military Commission.
1969-1975 Educated youth and Party Branch secretary, Liangjiahe Brigade, Wen'anyi Commune, Yanchuan county, Shaanxi province
1975-1979 Student of basic organic synthesis, Department of Chemical Engineering, Tsinghua University
1979-1982 Secretary, General Office, State Council and Central Military Commission (AD)
1982-1983 Deputy secretary, CPC Zhengding County Committee, Hebei province
1983-1985 Secretary, CPC Zhengding County Committee, Hebei province; concurrently first commissar and Party Committee first secretary, Zhengding County Military Affairs Department
1985-1988 Member, Standing Committee, CPC Xiamen Municipal Committee, Fujian province; and vice mayor, Xiamen
1988-1990 Secretary, CPC Ningde Prefectural Committee, Fujian Province; and concurrently first secretary, Party Committee, Ningde Military Sub-region
1990-1993 Secretary, CPC Fuzhou Municipal Committee, Fujian Province; chairman, Standing Committee, Fuzhou Municipal People's Congress; and concurrently first secretary, Party Committee, Fuzhou Military Sub-region
1993-1995 Member, Standing Committee, CPC Fujian Provincial Committee; secretary, CPC Fuzhou Municipal Committee; chairman, Standing Committee, Fuzhou Municipal People's Congress; first secretary, Party Committee, Fuzhou Military Sub-region
1995-1996 Deputy secretary, CPC Fujian Provincial Committee; secretary, CPC Fuzhou Municipal Committee; chairman, Standing Committee, Fuzhou Municipal People's Congress; first secretary, Party Committee, Fuzhou Military Sub-region
1996-1999 Deputy secretary, CPC Fujian Provincial Committee; first commissar, Fujian Provincial Antiaircraft Artillery Reserve Division
1999-2000 Deputy secretary, CPC Fujian Provincial Committee; acting governor, Fujian Province; deputy director, National Defense Mobilization Committee, Nanjing Military Area Command; director, Fujian Provincial National Defense Mobilization Committee; first commissar, Fujian Provincial Antiaircraft Artillery Reserve Division
2000-2002 Deputy secretary, CPC Fujian Provincial Committee; governor, Fujian Province; deputy director, National Defense Mobilization Committee, Nanjing Military Area Command; director, Fujian Provincial National Defense Mobilization Committee; first commissar, Fujian Provincial Antiaircraft Artillery Reserve Division (1998-2002: studied Marxist theory and ideological and political education in the In-service Postgraduate Class at the School of Humanities and Social Sciences at Tsinghua University, and awarded the degree of Doctor of Laws)