BEIJING - Xi Jinping, general secretary of the Communist Party of China (CPC) Central Committee, on Saturday expressed his best wishes to Tibetans after receiving a 3-meter-long thank you letter from 108 Tibetan lamas.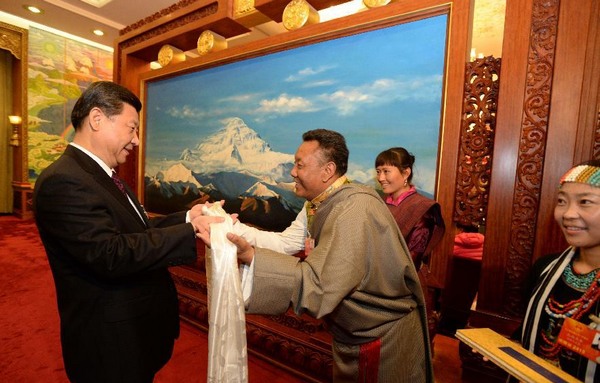 Xi Jinping (L), general secretary of the Central Committee of the Communist Party of China (CPC), receives a hada, a white silk scarf symbolizing respect and blessing, from a deputy to the 12th National People's Congress (NPC) from southwest China's Tibet autonomous region, in Beijing, capital of China, March 9, 2013. Xi joined a discussion with the Tibet delegation attending the first session of the 12th NPC in Beijing on Saturday. [Photo/Xinhua]
"Please convey my best wishes to all. Tashi delek," Xi said, using a Tibetan phrase for extending good luck and best wishes, while attending a panel discussion of the Tibetan delegation to the first session of the 12th National People's Congress (NPC).

NPC deputy Losang Tenpa presented Xi with a hada, a strip of raw silk and linen that conveys good blessings, as well as the hand-written thank you letter from the 108 high monks of Tibetan Buddhism.
"The high monks in Tibet are grateful to the CPC for its religious policies, so they wrote the letter that I'm presenting to you," Losang Tenpa said.
Xi also received hadas from another two Tibetan deputies.
The central authorities have always placed great importance on the development and stability of Tibet and cared about the lives of local people, he said.
Xi expressed his hope that people of all ethnic groups in Tibet could carry out the central government's policies and stay on a development path of Chinese characteristics and Tibetan features.
Tibet should find an effective way to maintain long-term stability and realize fast growth so the region can become a society of moderate prosperity along with the rest of the country by 2020, he said.