Lonely tunnel guard always wears a smile
(chinadaily.com.cn)
Updated: 2012-10-31 11:31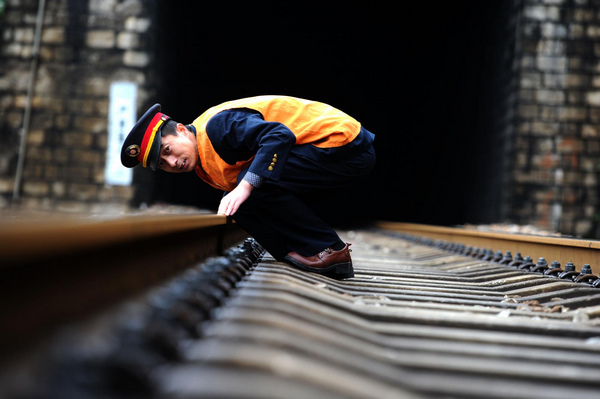 Li Yingming checks the line at the Huangtaishan tunnel in Qimen county, East China's Anhui province, Oct 30, 2012. [Photo/Xinhua]
Rail worker Li Yingming has been guarding the Huangtaishan tunnel for eight years, ensuring about 40 trains a day run smoothly through the mountains of Anhui province.
The 42-year-old started guarding the 660 meter tunnel, which is in a complex location in Qimen county, East China's Anhui province, in 2004.
Working a shift system, Li has to guard the tunnel alone for every 5 days, standing at the entrance, making sure it is clear and secure.
But that doesn't affect the lonely worker. "I always keep a smile. The steam-whistle of the trains, which is a sign of secure passing, is the best prize awarded to me and my colleagues," Li said about his work.