China's economy regains momentum
By Lan Lan (China Daily)
Updated: 2012-11-11 07:28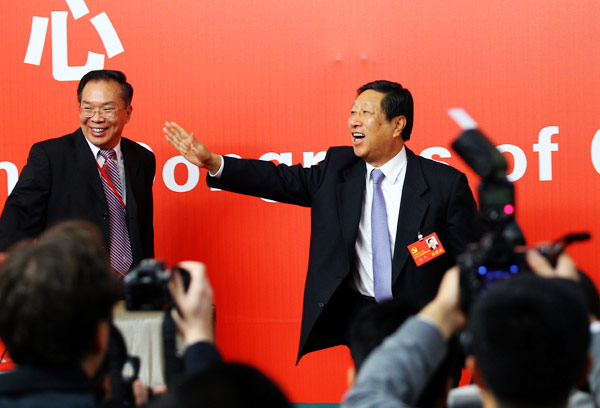 Wang Guoqing (left), vice-minister of the International Communication Office of the CPC Central Committee and Zhang Ping, minister of the National Development and Reform Commission meet the press to announce the latest update on the Chinese economy on Saturday during the 18th CPC National Congress. [Photo by Zou Hong / China Daily]
But more work needed for a sustainable growth model for China
China's economy is regaining momentum and growth of the world's second largest economy will exceed 7.5 percent in 2012. But, the groundwork for an economic rebound still needs more work, the head of China's economic planning agency said on Saturday.

Signs of an uplift in the economy were obvious in October and China will likely achieve its economic growth target for this year, said Zhang Ping, minister of the National Development and Reform Commission.
Zhang said China's fiscal revenue in 2012 is expected to increase to 12.7 trillion yuan ($2.03 trillion), compared to 10.37 trillion yuan in 2011.
The country's growth slowed to 7.4 percent in the third quarter of the year, a decline for the seventh consecutive quarter, sparking concerns that China may repeat the economic downturn seen in 2008 as a result of the global financial crisis.
But Zhang said the slowdown this year was partly due to government intervention, as a more moderated pace would allow leeway for China to shift its growth model.
"Many factors contributed to this year's slowdown. The government has taken the initiative to lower this year's growth target to 7.5 percent to realize more sustainable development of the Chinese economy," said Zhang at a news conference Saturday during the 18th National Congress of the Communist Party of China.
External conditions also affected growth. The sovereign debt crisis in Europe has yet to be solved, growth in other major economies had been pessimistic, and these factors have dragged down the growth of emerging economies.
"China, as a big economy, became deeply involved in the process of globalization. The worldwide slowdown and weak external demand also had impact on China," he said.
However, recent figures indicate that China may be reversing the trend. October data including total industrial output value, total retail sales and import and export statistics all showed improved performances compared to the last two months.
"We have confidence we can realize the targets set at the beginning of the year. Economic growth could still exceed 7.5 percent in spite of major challenges and difficulties," said Zhang.
"But we must not let our guard down. Our foundation is still not firm enough for a rebound, so we should not let up on continued efforts," said Zhang.
"Given the new challenges in the world economy, we must prepare ourselves for difficulties and challenges in the long run."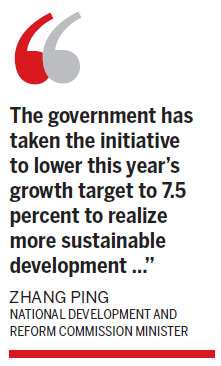 The main focus is to further strengthen domestic demand and increase income to stimulate domestic consumption.
The government is expected to launch a new income-distribution framework soon to reduce income inequality, according to reports.
Zhang said domestic consumption has played a vital role in keeping the Chinese economy growing.
In the first three quarters, the contribution of exports to China's economic growth was a negative 5.5 percent, while internal demand represented 105.5 percent of the growth.
"China has set developing internal consumption as its strategic base point, to leave space for the stable and relatively rapid expansion for China's economy."
Inflation has stabilized, according to figures released by the National Bureau of Statistics on Friday. China's CPI increased by 2.7 percent in the first 10 months, indicating that the year's target - 4 percent - is within sight.
Zhang said the implementation of the country's 12th Five-Year Plan (2011-15) is well on track after two years. The economy grew by 9.3 percent in 2011, the first year in the 12th Five Year Plan.
GDP growth should spike to above 8 percent in the fourth quarter, said Zhang Zhiwei, chief economist at Nomura International. "We do not expect it to sustain throughout 2013."
He expected loose monetary policies to continue for the rest of the year. The central bank has cut interest rates twice this year and lowered reserve ratios three times since late 2011.
A significant contributor to a stabilizing economy is the return to capital inflow bolstered by aggressive net liquidity injections from the central bank, said Alistair Thornton, senior China economist at HIS Global Insight.
He said latest statistics indicate that the government's strategy to boost growth has gained traction in the past couple of months.
lanlan@chinadaily.com.cn