Kissinger predicts a more open China
By Tan Yingzi in Washington (China Daily)
Updated: 2012-11-12 00:21
US should not expect Beijing to follow its path, says Nixon's secretary of state
As the Communist Party of China undertakes its once-in-a-decade leadership transition in Beijing, many people in the United States wonder about the path China will choose and whether it will continue building on its reform and opening-up endeavors.
But for the old China hand Henry Kissinger, who has worked with every Chinese leader since the 1970s, the answer is clear: China will become more open and transparent and carry out the reforms it deems necessary in its own way.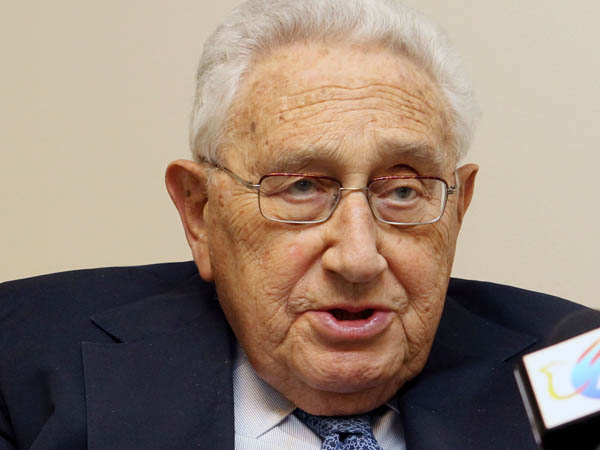 Henry Kissinger, former US secretary of state and an old China hand.
The former US secretary of state and national security adviser expects to see transformations in the Chinese economy and society as well as foreign policy in the coming decade.
"I think it (China) will be more transparent, its legal system will be more predictable," Kissinger said during a recent seminar at a Washington think tank on China's leadership transition.
"But it has huge adjustments to make."
He said that one of the major transformations in China over the next 10 years will be the urbanization of more than 400 million farmers, which will test the country's infrastructure, economy and even traditional value systems.
Kissinger noted that China's future generation will be unique: most of them raised in one-child families and the first generation in hundreds of years that has never experienced upheaval.
In foreign policy, he said, as China spurs domestic consumption and depends less on exports, it will be less dependent on foreign markets.
"I can imagine a transformation, I think that is certain," he said, adding that the US should not expect China to follow its path.
"What we must not demand or expect is that they will follow the mechanisms with which we are more familiar. It will be a Chinese version, but it will be, I believe, more transparent."
The CPC made clear before the 18th Party Congress opened on Thursday that it is determined to further enhance reforms at all levels.
The Party will uphold the policy of reform and opening-up and set out specific goals, missions and guidelines for development, Cai Mingzhao, the spokesman for the congress, said at a news conference on Wednesday.
The reforms will include improving the economic system, market mechanisms, the basic distribution system, the socialist democratic system, cultural management and social management, he said.
According to Kissinger, "if you look at their own reform agenda, the things they have stated that they want to achieve in the next 10 years, you know that China will undergo enormous changes".
Kissinger said he believes that because China's new leaders will have their hands full with domestic issues, it is unlikely that Beijing will have "great foreign adventures or confrontations with the United States" on its agenda.
Because China-US relations have become more complicated in recent years, Kissinger urged both to exercise "patience and understanding" to avoid conflict.
"A conflict between China and the United States would be a disaster for both countries. And it would be impossible to describe what a victory would look like," he said.
Fortunately, he added, China policy has been the least partisan foreign policy of the eight US administrations since 1971, which have pursued essentially the same course.
"So I am confident that this will be continued, and, after all, relations with China now are good," he said. "What we need to do now is to find something on which we can genuinely cooperate, not just mitigating problems that arise, something that is done on both sides of the Pacific and that engages the best minds of both sides on some common project."