Xi helps American dreams come true
Updated: 2012-02-15 08:47
By Hu Meidong, Tan Zongyang and Zhou Wa (China Daily)
| | | | | | | | | | | |
| --- | --- | --- | --- | --- | --- | --- | --- | --- | --- | --- |
|   | | Comments() | | Print | | Mail | | Large Medium  Small | 分享按钮 | 0 |
FUZHOU - Former official Chu Yanli was confused - she had never before been asked to receive a civilian guest from the United States.
It was 1992, and the request came from Xi Jinping, the former Party secretary of Fuzhou.
As a former official for foreign affairs in Fuzhou, Fujian province, Chu was put in charge of managing the six-day itinerary of a woman she had never met.
That woman was Elizabeth Johnson Gardner, a 76-year-old widow whose husband's last wish had been to visit Fuzhou's Guling, where he had spent his childhood.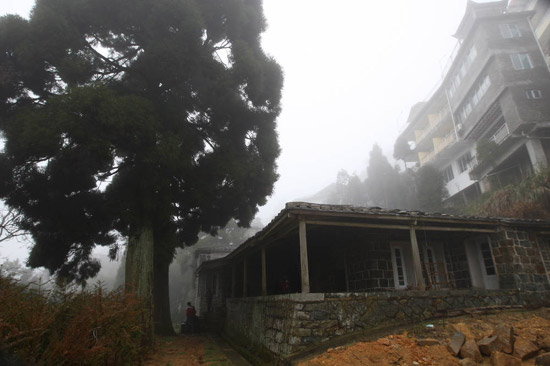 The hotel, at which Elizabeth Johnson Gardner stayed during her visit in 1992, is one of the villas built by the Westerner at the end of 19th century. [Hu Meidong / China Daily]
Thanks to Xi's invitation, she was able to carry out that wish on his behalf.
"I am really very lucky, and this trip means a lot to us," Gardner said on her visit to Fuzhou, according to Wu Qimin, a journalist from the People's Daily.
"I will tell my friends in California and the United Kingdom about my experience."
To show her gratitude, Gardner presented Xi with a pair of traditional Chinese vases with lacquer painting, which her husband had kept for years.
"The vases will be collected by the Fuzhou Museum, to remember the friendship they represent," Xi was quoted as saying.
In return, Xi also gave Gardner a pair of vases.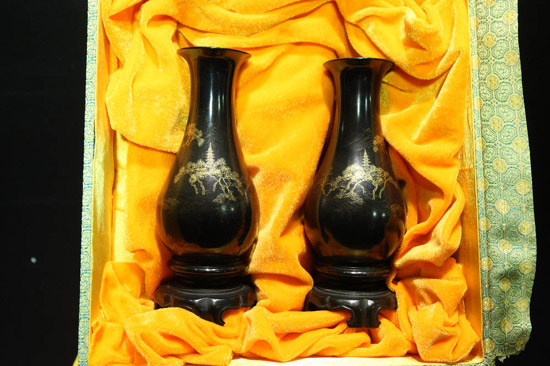 The vases, which had been kept by Milton Gardner when he was alive, were presented by Mrs Gardner to Xi. [Hu Meidong / China Daily]
Gardner spent two nights in Guling, a centuries-old resort that helped her husband avoid the summer heat and left him with beautiful childhood memories - and was a name he murmured even when he lay dying in 1986.
The city is in the mountains about 13 kilometers from downtown Fuzhou.
During her stay, Gardner had a meeting with nine old villagers, who recalled the days when Guling had a bustling mix of Chinese and Westerners.
Missionaries discovered the place in 1886. The small village later attracted more and more Western diplomats, missionaries and merchants, who tried to avoid the heat in Fuzhou, one of five Chinese treaty ports after the First Opium War in 1840.
"When I was young, there were no Western residents anymore. But my father and grandfather had talked about their times, when the Westerners and local residents had been living harmoniously in the community," said 52-year-old Guo Xiangqian, a security guard who stayed with Gardner during her visit.
Gardner's husband, Milton Gardner, lived in Guling for the first nine years of his life until 1911.
He moved back to California with his family and later became a professor of physics at the University of California.
Gardner sought to return to China after he retired at the age of 68, but he failed because China and the US had not established diplomatic relations. He later became paralyzed in old age and lay bedridden for many years.
He retained the Chinese habit of eating porridge every day. He recalled his childhood in China every time his wife wheeled him into their garden.
"When he was dying, he repeatedly said 'Guling, Guling'," related Zhong Han, who lived as a student in the Gardners' home after Milton Gardner's death.
Unfortunately, Elizabeth Gardner did not know exactly where Guling was until she found 11 stamps left by her husband with a postmark saying "Guling, Fuzhou" in Chinese characters.
"Zhong said he was fairly touched by Mrs Gardner, because she never gave up her husband's last wish to come back to China, despite the difficulties," said Wu.
So touched was Zhong, that he wrote a story about it for the People's Daily.
It was that story that inspired Xi Jinping to send his invitation.
Hot Topics
Wu Ying, iPad, Jeremy Lin, Valentine's Day, Real Name, Whitney Houston, Syria,Iranian issue, Sanyan tourism, Giving birth in Hong Kong, Cadmium spill, housing policy