Rhythms of tradition
Updated: 2012-01-02 11:25
By Cui Meng (China Daily)
| | | | | | | | | | | |
| --- | --- | --- | --- | --- | --- | --- | --- | --- | --- | --- |
|   | | Comments() | | Print | | Mail | | Large Medium  Small | 分享按钮 | 0 |
The Miao drum festival moves to the beat of the ethnic group's past and present culture. Cui Meng reports.
Guzang Festival, the most ancient and spectacular Miao festival in Guizhou province, was celebrated from Nov 10 to Nov 12 in Leishan county's Taoyao Miao village. Leishan, located in the southwest of the Miao and Dong autonomous prefecture, is where most of the Miao ethnic group lives.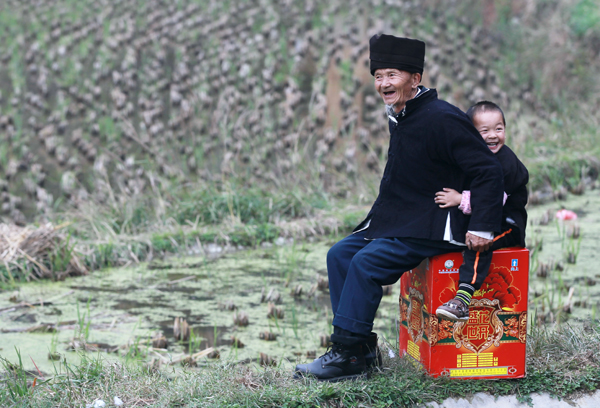 An elderly Miao man and his grandson play in the open air in Taoyao Miao village on Nov 10. [Photo by Cui Meng / China Daily]
According to ancient Miao songs, the festival was celebrated by early Miao clans in the Xia Dynasty (c.21st century-16th century BC). It became even more popular after the Miao migrated to the Leigong Mountains in today's Leishan county.
"Gu" literally means "drum", and "zang" means "to bury". Hence, "guzang" means "to bury the drum".
The Guzang Festival is also known as Gushe Festival, indicating the drum-burying activities often took place in communities of kindred clans named "Gushe".
The ancient Miao songs also suggest their ancestors established the Guzang Festival to sacrifice to the Mother Butterfly, who created the world. Legend has it that Mother Butterfly was born out of a maple tree. Consequently, maple trees and Mother Butterfly are worshiped as the Miao's most venerated gods.
The Miao believe wooden drums made of maple trees are where their ancestors' souls rest.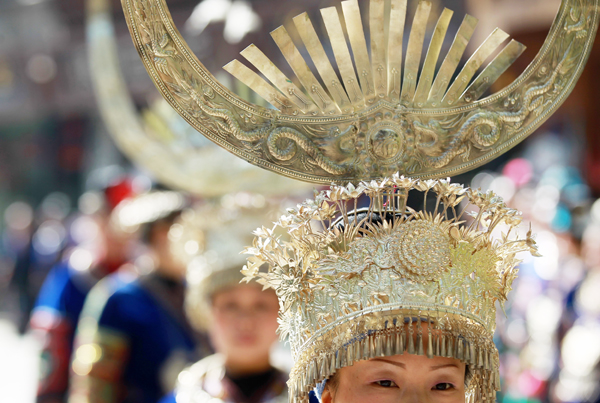 Miaowomen wear silver headwear in Xijiang Qianhu Miao village in Guizhou on Nov 10, 2011. [Photo by Cui Meng / China Daily]
Ancestor worship was passed down for centuries and gradually evolved into drum worship.
Different villages host the festival every 12 years in a 13-year cycle.
The celebration lasts about four days, and has a different theme ritual every year.
The rites are complicated and consist of a series of great ceremonies. These include the zhaolong (inviting the dragon), xinggu (awakening the drum), yinggu (welcoming the drum), shenniu (examining the cattle), and the white drum ritual, which is a significant sacrifice that officially ends the festival.
During Guzang, the Miao gather under the holy maple and communicate with their ancestors through drumming and dancing.
The festival reflects the Miao's social values. These include ancestor worship, harmonious community, hard work, austerity, peace and happiness.
It has practical value for the study of the Miao's history and contemporary culture.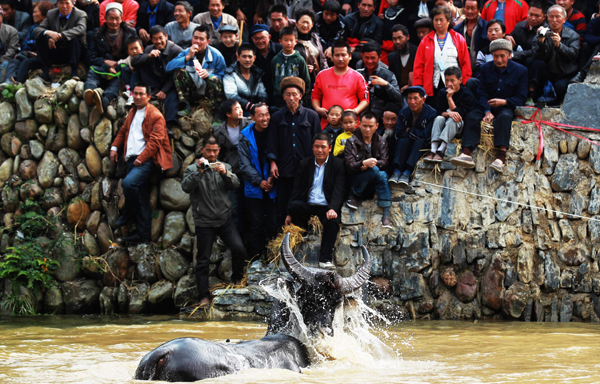 Miao people watch buffalo fights during Guzang. [Photo by Cui Meng / China Daily]