Farmer: No regrets over giveaway
Updated: 2011-12-07 07:22
By Liu Xiangrui (China Daily)
| | | | | | | | | | | |
| --- | --- | --- | --- | --- | --- | --- | --- | --- | --- | --- |
|   | | Comments() | | Print | | Mail | | Large Medium  Small | 分享按钮 | 0 |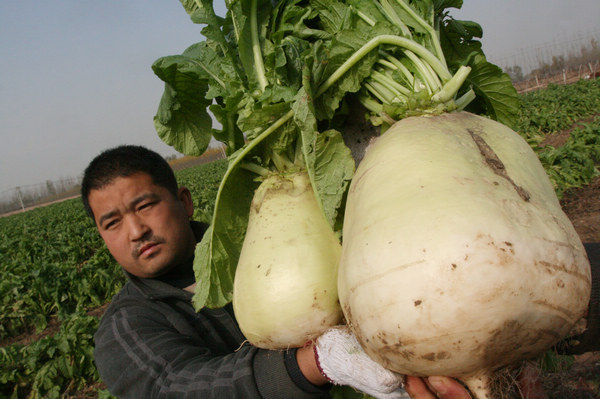 Han Honggang, a farmer in Zhengzhou, capital of Henan province, displays some white radishes that were left because of their "unsightly appearance" after local people swarmed to his farmland to pick free radishes. Yan Huazhuang / for China Daily 
ZHENGZHOU - When it comes to marketing, few things are better at attracting customers than freebies.
Han Honggang will be hoping that theory is true after he decided to give away an entire field of bai luobo, or white radish.
The 37-year-old farmer says the idea came to him after he heard a cold snap was on its way.
"Weather forecasters had predicted snow, and the radishes had to be pulled up before that or they would spoil," Han said when China Daily caught up with him on Saturday. "I thought it'd be a pity for them to rot in a field."
Instead, on Nov 25, he contacted local media and advertised his vegetables for free to anyone willing to pluck them from the ground.
Business had been poor, he said, and wholesalers were offering just 0.12 yuan (2 US cents) per kilogram.
"I knew that giving away the crop would probably cost me at least 70,000 yuan, but hiring workers to pick them and trucks to ship them would have cost more," said Han, who rents a four-hectare field beside the Yellow River, just outside Zhengzhou, capital of Central China's Henan province.
Once Han's announcement appeared in newspapers, roads around his field were jammed with cars, as thousands of people flocked to get their share of free vegetables.
Within three days, pickers had taken about 250 tons of radishes. However, Han did not notice until later that they were also pulling up sweet potatoes and other crops.
"I was a little angry and felt helpless," he said, explaining that he told people that only the radishes were free. "Maybe they ignored me after seeing others take vegetables away."
Han estimated that the lost produce could end up costing him as much as 60,000 yuan.
He also complained that the damage left behind, including crushed radishes, half-picked sweet potatoes and car tire tracks, also took two people 10 days to clear up.
Han's family moved to Zhengzhou from their village in northern Henan in 2001. Before switching to vegetables, he previously used the land to grow wheat and corn, which made an annual profit of about 30,000 yuan.
Despite the outcome, and his father's concerns about the financial loss, Han said he does not regret the giveaway.
"I had to try my best so the radishes weren't wasted," he said. "I'd do it again, too."
Yet, he admitted he has learned some important lessons.
"Even a good deed must be done in an organized way, otherwise there will be problems," he said, smiling. "Also, next time I'll give my vegetables to welfare houses, migrant workers and schools."
Many people have approached Han since his giveaway to offer their support, including some who offered to make a donation to his family.
"I won't accept their charity. My financial conditions haven't worsened to that extent, and many people need help more than I do," the farmer said.
On Saturday morning, Han drove a truck filled with sweet potatoes to a public square in Zhengzhou for a special sale organized to thank him for his kindness. When he arrived, there were lines of people stretching more than 30 meters.
"I come from a rural area, and in Han I see the typical simple nature of Chinese farmers," said Qiao Taotao, a teacher who organized Saturday's event. "We should care about the problems faced by vegetable farmers and give them a hand."
Han said many people also helped during the special sale, adding that he was especially grateful to an elderly woman who fed him bread and milk.
"I've redeemed some losses now, and I plan to work harder next year to thank those who helped me," said Han, who has received orders totaling 200,000 yuan for next year's crop of sweet potatoes.
Yang Xiaonan in Zhengzhou contributed to this story.