Cause of hep C outbreak unclear
Updated: 2011-12-01 07:31
By Liu Xiangrui and Li Yao (China Daily)
| | | | | | | | | | | |
| --- | --- | --- | --- | --- | --- | --- | --- | --- | --- | --- |
|   | | Comments() | | Print | | Mail | | Large Medium  Small | 分享按钮 | 0 |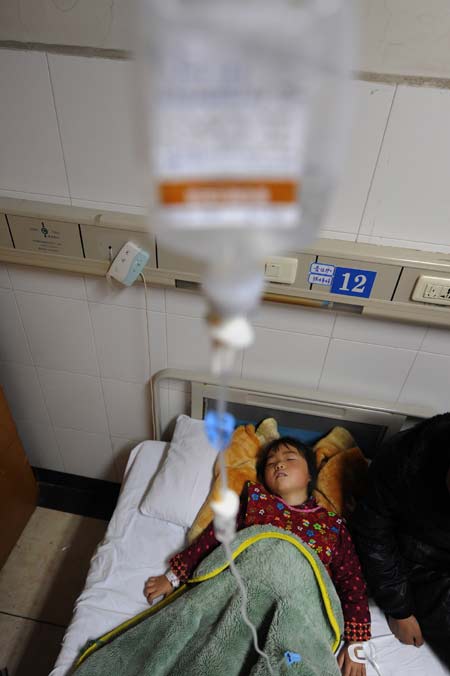 A child who has contracted hepatitis C receives treatment in a hospital in Anhui province on Tuesday. At least 13 people in the province have contracted the disease. LIU JUNXI / XINHUA
ZHENGZHOU - Six cases of hepatitis C were reported in Yongcheng city, Central China's Henan province, where a rural clinic is accused of reusing unclean needles, thus infecting at least 13 people in the neighboring Anhui province.
So far, 104 people in Henan and 76 in Anhui have tested positive for having hepatitis C antibodies but will have to take more tests to confirm if they have contracted the disease.
Among the 76 who tested positive in Anhui, most were children aged 10 or below.
Zhou Yong, head of the emergency office with Henan's public health department, who has led an investigative panel probing the case since Tuesday, told China Daily his chief concern was to verify whether the rural Miaoqian clinic was where the outbreak started.
He said his team found little evidence of recycling of dirty needles, having inspected conditions in the clinic, its intravenous injection procedures, purchasing channels of medicines and other medical supplies.
The team did not identify the total number of affected people in Henan, saying it was not a priority at the moment.
Blood samples of 41 people, among the 151 who had received injections in the rural clinic this year, had been collected for tests, and the results will be released soon, Zhou said.
According to Zhou, the doctor heading the controversial clinic, Wu Wenyi, has spent more than 40 years practicing medicine and holds licenses from the local health department.
As of Wednesday, at least 10 children from Anhui's Guoyang county were under treatment at No 1 Hospital Affiliated to Anhui Medical University in the provincial capital Hefei.
All parents said their families went to the Miaoqian clinic in Henan, about 8 kilometers from the border of Anhui, for medical services.
Chen Yuping, whose 2-year-old son, Zhang Ziheng, was confirmed as carrying the virus, said Dr. Wu Wenyi seldom bothered to change needles when injecting different children and would be angry when asked to do so.
Zhang Yinping, Chen's husband, came back home to Laotian village in Guoyang county on Nov 17 from Ningbo, Zhejiang province, where he had worked as a migrant worker.
Like other families with infected kids in the hospital, Zhang was paying for treatment out of his own pocket and spent nearly 10,000 yuan ($1,570) on tests and hospital stays.
"No one from among the health authorities in the county, township, city or provincial level in Anhui had paid a visit or given a call," Zhang said.
"The treatment options doctors give us are too expensive for our family," said the 29-year-old father.
Another Laotian villager, Zhang Yongqi, 31, burst into tears. His 9-year-old son, Zhang Dongdong, was confirmed infected, and Zhang was deeply troubled about the long-term effect that will have on the life of his family.
"He is our only child. And there is little chance my wife will get pregnant again. I'm not afraid to go into debt, so long as my son gets cured," Zhang said.
Zhang and his wife are both migrant workers in Xuzhou, Jiangsu province. The child was left in the care of his grandparents, who would bring him to Wu's clinic.
In the past three days, Zhang has spent 3,000 yuan on treatment. His technician's job earns him only 2,000 yuan a month.
"I haven't told my parents about the kid's condition. They are both in their 60s and in poor health. It will be too much for them to bear," he said.
Li Jian, deputy director of the health bureau in Guoyang county, said authorities in Anhui had made a draft plan to provide health insurance to cover the medical costs in the 13 confirmed cases in Anhui. The plan will be announced in the next two days.
According to Li, more than 1, 000 residents lived in Laotian village, and most of them went to Miaoqian clinic for medical services since it was close, efficient and charged reasonable prices.
Hepatitis C virus is contagious and hard to cure. It is often transmitted through sex, transfusion of infected blood or passed on to children through their parents.
Ma Chenguang contributed to this story.