With editor, disabled rewrite future
Updated: 2011-11-30 07:26
By Li Yao (China Daily)
| | | | | | | | | | | |
| --- | --- | --- | --- | --- | --- | --- | --- | --- | --- | --- |
|   | | Comments() | | Print | | Mail | | Large Medium  Small | 分享按钮 | 0 |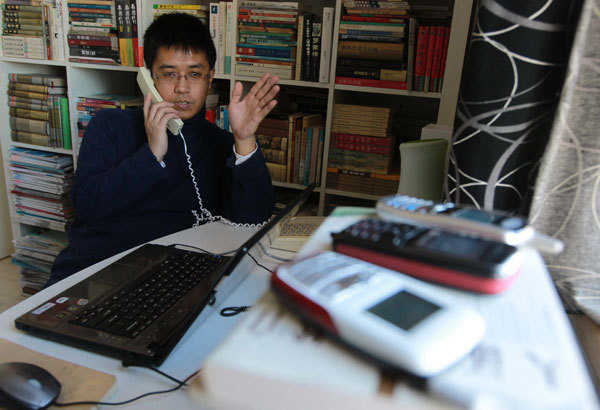 Zhang Danuo, a volunteer editor who offers free advice to the disabled.
BEIJING - After 15 years as a journalist, Zhang Danuo knows a good story when he sees one. Now he's using that skill to change people's lives.
Since the mid-1990s, he has been offering his services free to disabled people who want to write about their experiences.
"I want children with all kinds of disabilities to be able to read the work of people in similar situations, so it can help them through their difficult journey," said Zhang, 39, as he sat in the study of his Beijing home.
So far, Zhang has helped produce four books, and hopes to see another 40 released by the end of 2012.
It all started in 1996 with a letter from 16-year-old Zhang Yuncheng.
The teenager wrote about the muscle-wasting disease he had had since the age of 3 and how he relied on others to do almost everything. He had taught himself to read and write, and used his diary as an emotional outlet, even though the constant pain had become almost too much to bear.
Zhang Danuo, who was editing a newspaper in his native Heilongjiang province at the time, said he had never been so touched, and felt compelled to offer the teenager help in writing a book about his life.
After thousands of letters and e-mails, as well as hours spent talking on the phone, Zhang Yuncheng's If I Could Walk for Three Days was published in May 2003.
"He's the most important person in my life," the author said of his editor. "If it weren't for him, I wouldn't be the person I am today. He is the source of strength behind every change I make."
Doctors had told Zhang Yuncheng that he would not live past 28 years. He is now 31 and runs an online store. His second book, which is about his new life in Beijing, will come out next spring.
"In those dark moments, it was Zhang (Danuo) who helped me regain the faith to hold on to something worth fighting for and realize my dreams," he added.
After the joy that came with the release of If I Could Walk for Three Days, Zhang Danuo struck upon an idea to recruit other sick, disabled or disadvantaged people willing to write about the problems they faced every day, such as in relationships, parenthood and even travel.
"When I find a suitable candidate, it usually takes about three months before we have a theme and sketch out a plan, breaking it down into smaller topics. Then we set the writing in motion," said the editor, who quit his job in Beijing in 2008 to work full time on his side project.
Zhang offers advice and editing free of charge, but leaves it to the authors to pitch their work to publishers.
"Sometimes, the things I read give me chills. The suffering is beyond my imagination," he added. "But writing is therapeutic. These people are full of misery and bitterness at first, but writing gives them a brand-new life, with clear goals and dreams to work hard for."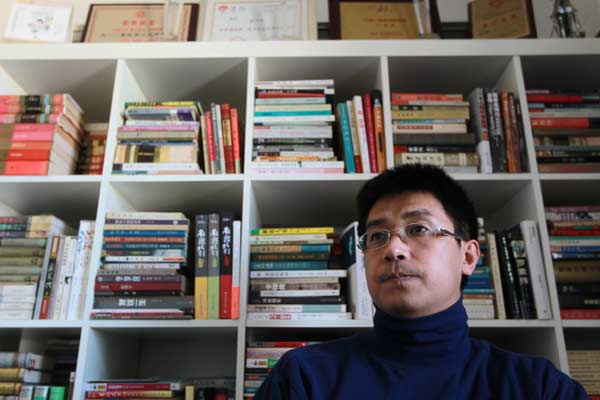 Zhang Danuo, a volunteer editor who offers free advice to the disabled.
Twin sisters Xu Dongqing and Xu Dongmei, who are both disabled, published a book about their romantic lives in March 2008. They spent 7,882 minutes on the phone with Zhang Danuo and exchanged 266 text messages in nine months.
They attempted to give the journalist 5,000 yuan ($780) to cover the cost of the telephone bills, but he refused to accept it.
At the couple's home in Beijing's Shijingshan district, there is a bookstore filled with masterpieces by and about China's greatest writers. However, one shelf remains almost empty.
"This is for the disabled writers I work with," Zhang Danuo said, as he pointed at the space. "I hope some day there will be 50 books or even more stacked here."