China takes a tough line on poverty
Updated: 2011-11-30 07:20
By He Dan (China Daily)
| | | | | | | | | | | |
| --- | --- | --- | --- | --- | --- | --- | --- | --- | --- | --- |
|   | | Comments() | | Print | | Mail | | Large Medium  Small | 分享按钮 | 0 |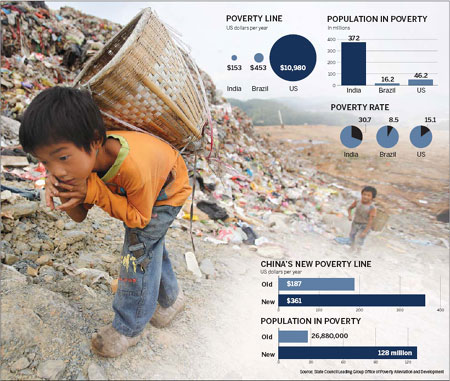 Ten-year-old Jiao Qiang scavenges for a living at a landfill in Guiyang, Guizhou province. The country raised its poverty threshold to 2,300 yuan a year amid rising inflation and living costs. Photo by Wang Jing / China Daily; Graphic by Guillermo Munro / China Daily
New threshold helps the poor gain access to more assistance
BEIJING - With the stroke of a pen, nearly 100 million more people in China were deemed poor as the country modified its definition of poverty to bring it more in line with international standards.
The move will also put more people in rural areas under the government's poverty aid network.
A rural resident with a yearly net income of less than 2,300 yuan ($361) will now be considered living in poverty. The threshold, lifted from 1,196 yuan in 2009, translates into slightly less than $1 a day.
The revision will boost the number of people deemed poor to 128 million from 26.88 million last year, said Hong Tianyun, a spokesman for the Leading Group Office of Poverty Alleviation and Development under the State Council.
"The previous poverty line underestimated the number of poor people in rural China," said Wang Sangui, a professor at the School of Agricultural Economics and Rural Development of Renmin University of China.
"Only 2.8 percent of the rural population was officially considered poor, which was lower than many developed countries such as the United States, which has a poverty rate of about 15 percent."
The new poverty threshold better reflects the situation in China and brings more resources to poverty-stricken regions, Wang said.
The poverty line applies only to rural areas.
After China's revision of the poverty line, more people will be covered by the government's poverty reduction fund, which will amount to 27 billion yuan this year, a 21-percent annual increase.
Yang Maobao, 52, from a village in Shuicheng county, Southwest China's Guizhou province, is one of those expected to benefit from the new policy.
She raises three grandsons with her husband and relies on a yearly income of 4,000 yuan earned from selling crops and vegetables.
Life became more difficult for Yang after her son went missing two years ago and her daughter-in-law left three children without saying goodbye.
Potatoes and green vegetables make up the family's daily diet, and they only get the chance to taste some smoked meat during major festivals such as Chinese New Year.
"We only go to the market to buy salt and soy sauce, and the television my son bought several years ago broke but we can't afford to repair it," Yang said, adding the rice cooker is the only electric device in her family.
Ardo Hansson, World Bank lead economist for China, said the higher poverty line will help focus policy attention on the right target group given China's current level of development.
Hansson said the enhanced poverty line will enable more rural households who were previously considered "low income" (but not poor) to gain access to benefits and programs for poor households.
"A more realistic poverty line can also help guide future changes in fiscal reallocation and equalization," Hansson told China Daily in an e-mail.
The new threshold is another step to catch up with the international standard, which the World Bank revised to $1.25 a day in 2008.
Senior Chinese leaders convened on Tuesday to map out efforts to alleviate poverty in the country's rural areas over the next decade as the government tries to narrow a widening wealth gap.
The two-day working conference will study the implementation of an outline from 2011 to 2020. The outline is expected to be unveiled after the conference.
The government strives for providing adequate food and clothing for poverty-stricken people while ensuring their access to compulsory education, basic medical services and housing by 2020, said President Hu Jintao, who delivered a keynote speech at the meeting.
China should pay more attention to integrating environmental sustainability into poverty reduction in the future, Renata Dessallien, UN Resident Coordinator and UNDP Resident Representative, told China Daily.
Given the huge flow of people from rural to urban areas, it's important for China to ensure migrants and their families have equal access to the urban social welfare system, she said.
Su Jiangyuan, Jin Huiyu and Xinhua contributed to this story.