Long road to recovery
Updated: 2011-11-29 07:12
By Zheng Jinran (China Daily)
| | | | | | | | | | | |
| --- | --- | --- | --- | --- | --- | --- | --- | --- | --- | --- |
|   | | Comments() | | Print | | Mail | | Large Medium  Small | 分享按钮 | 0 |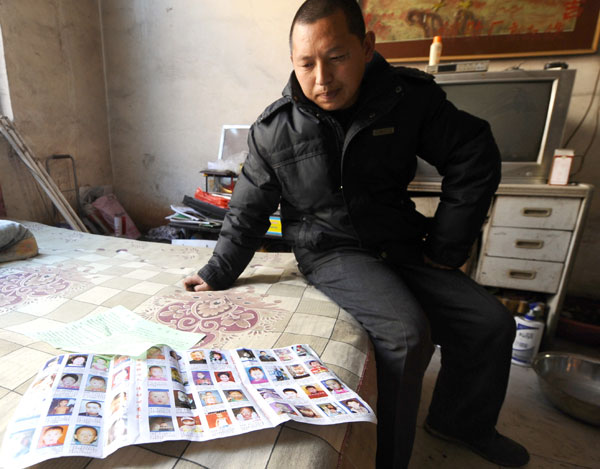 Feng Jianlin, who lost his daughter three years ago, has traveled thousands of miles across China and passed out millions of leaflets bearing the images of missing children. Yan Yan / Xinhua
SHIJIAZHUANG - In little over three years, Feng Jianlin has traveled thousands of miles in his old van and passed out millions of leaflets carrying the faces of missing children.
His journey has already helped nine families reunite with their lost children, yet he is still to receive any firm leads about his own daughter, Feng Yun.
"We just celebrated her 12th birthday on Nov 26," said Feng Jianlin, 38. "We'll never give up looking for her."
Feng Yun had just left home for afternoon classes in March 2008 when she vanished. Her parents appealed for help from the police and relatives in other cities, but their initial searches proved fruitless.
"My wife was overwhelmed and has been sick ever since. My other two daughters miss their sister a lot. We all need her," said the father, whose dark tanned skin and husky voice make him appear much older than his years.
Three months after his daughter's disappearance, Feng Jianlin closed his tire shop in Taiyuan, capital of Shanxi province, and decorated his small truck with pictures of the girl and his phone number.
On the sides, he wrote: "Feng Yun, I miss you."
He has been on the road ever since, visiting city after city to hand out fliers in public squares and appeal for information.
"If I reach as many people as possible, the chances that I will find someone who knows something about my daughter will greatly increase," the father said.Feng's family now survives on a basic living allowance from the government. Since 2008, they have burned through their entire savings and borrowed about 100,000 yuan ($16,000) from relatives.
"My father, who is 65, once gave me 2,000 yuan to pay my debts," Feng Jianlin said, adding that his parents have no idea he has shut his shop.
"The pain of failing to find our daughter tortures us every day," he said, his voice filled with sadness. "But we just can't afford it anymore; we have two other daughters and my aging parents to care for."
He admitted he has at times contemplated giving up, saying: "Sometimes, I've thought: Maybe we could work and live as before, and in the future, when we meet again, we could give Feng Yun financial compensation."In the meantime, Feng Jianlin's strength to carry on appears to lie in his knowledge that he is not alone.
He often travels with the parents of other missing children, and in July this year was helped by friends to set up a website - xunzi.cc - that collects information on lost youngsters.
"Similar cases have happened around me, with friends and neighbors also losing children. Some attempted suicide, others asked me for help," the father said, pointing to a leaflet carrying the faces of more than 200 missing children.
The people who join him offer money to support his journey, but most are farmers or low-income workers with little to spare.
"We don't know how far we can go, but it's the most effective way to find our kids," said Li Yongfei, the father of a missing girl who recently traveled with Feng Jianlin through central and southwestern provinces.
"I have to work, so most of the time Feng is the one looking for my child. I really appreciate his help," Li added.
Although the cross-country tours have resulted in some unscrupulous people taking advantage of him, many others have provided valuable leads that have resulted in the recovery of nine children.
"I can still remember the faces of the family who found their missing girl in January in Changzhi (Shanxi province), which is hundreds of miles from their hometown," Feng Jianlin said, his eyes lighting up with excitement.
"I just hope that is my family one day."