Unattached 'sticks' look forward to Singles' Day
Updated: 2011-11-11 07:23
By Cang Wei (China Daily)
| | | | | | | | | | | |
| --- | --- | --- | --- | --- | --- | --- | --- | --- | --- | --- |
|   | | Comments() | | Print | | Mail | | Large Medium  Small | 分享按钮 | 0 |
BEIJING - Unattached Chinese individuals are celebrating Singles' Day, or Guanggun Festival in Chinese, which falls on Nov 11 every year.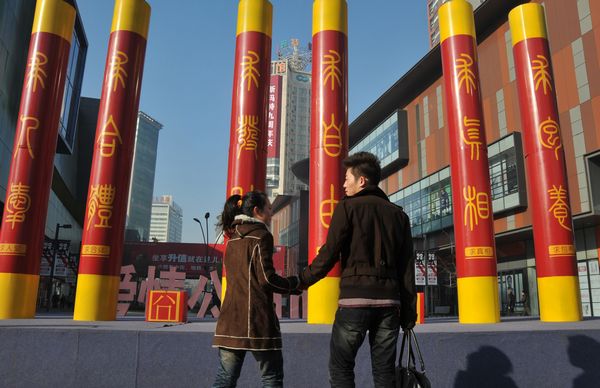 Six three-meter-tall pillars put up in front of a shopping mall in Shenyang, capital of Liaoning province, to symbolically represent the rare date, 11.11.11. The pillars were set up to mark Singles' Day, which falls on Nov 11. [Photo/ China Daily ]

Guanggun literally means "bare sticks" for the 11th day of the 11th month is dominated by the number 1, similar in shape to a stick. Guanggun also denotes a Chinese slang, meaning "single people".
The festival this year is being deemed as "the ultimate Singles' Day of the century", as the year 2011 also contains two "sticks" in it.
"I'm going to summon some friends on the Internet and celebrate the century's biggest Singles' Day with them," said Ji Guangzhong, a 23-year-old man in Shenyang, Northeast China's Liaoning province.
"I don't even mind if they are male," added Ji. "Being alone on the day makes me feel miserable."
He made the remark at a shopping mall, which has put up six three-meter-tall bare sticks in front of its gate. Employees working at the mall have been asked to dress like a fuzzy bear on Friday. Holding inflatable hammers, the "bears" will attack couples who show intimacy in public on behalf of single people. The couples attacked will receive presents later.
"But, it'll be better if the mall gave us, single people, comforting presents," Ji said.
The traditional way to observe the day is to have four fried dough sticks and an egg or a steamed stuffed bun for breakfast, which together represent the date "11.11".
First celebrated by a group of college students in Nanjing, East China's Jiangsu province, Singles' Day now is a nationwide pop culture holiday. It even has its own anthem - Love Song for Singles - whose lyrics read, "The more frustrated you feel in pursuing love, the more courageous you should become."
In Shanghai, a grand matchmaking fair is being held in Songjiang district. Hundreds of matchmakers will be present to help attendees find their special ones.
Many singles across China would be watching a movie titled Love Is Not Blind on Friday. People from all across the country have purchased tickets in bulk online.
"The movie is about a girl who is heartbroken after her boyfriend cheated on her," said Zuo Fei, a 26-year-old woman living in East China's Zhejiang province. "Watching another girl's sad story makes me feel less sad about myself on Singles' Day."
However, not everybody is as eager to wallow in self-pity as Zuo, on Singles' Day.
"For adults like myself, it is perhaps too childish to celebrate the day," said Long Ying, a 25-year-old who works as a department manager of a construction company in Beijing.
"I don't think being single is something to be proud of, and it's not necessary to hang out with friends on the day to flaunt your single status."
Online store owners and shoppers are trying to exploit the economic benefits Singles' Day might bring in its wake. Most Chinese shopping websites have offered special discounts to mark the day.
The sales on Taobao.com, China's largest e-commerce platform, amounted to more than 900 million yuan ($142 million) on Nov 11 last year.
But many people are looking at 11/11/11 as an auspicious date, on which they would like to get married, for "one" not only stands for "single", but could also signify "that Special One".
Xinhua reported that Shanghai's civil affairs authority had received more than 3,200 applications until Tuesday, for registering marriages on Friday.
Liu Ce contributed to this story.