Housing intangible heritage
Updated: 2011-11-06 07:39
By Rebecca Lo (China Daily)
| | | | | | | | | | | |
| --- | --- | --- | --- | --- | --- | --- | --- | --- | --- | --- |
|   | | Comments() | | Print | | Mail | | Large Medium  Small | 分享按钮 | 0 |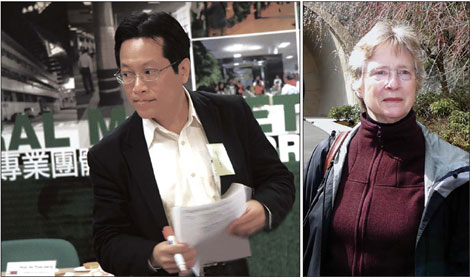 Lee (left) and DiStefano have worked towards making Hong Kong more sustainable with the Hong Kong University's architectural conservation program. Photos provided to China Daily
Hong Kong's 1972 Small House Policy has been described as unsustainable, but it did result in an unexpected benefit - the preservation and continuation of indigenous village traditions. Rebecca Lo explains.
When Dr Lynne DiStefano, adjunct professor and former director of The University of Hong Kong's Architectural Conservation Program, first arrived in Hong Kong from Canada in 1997, she bumped into a colleague in the hallways of the faculty and asked him a question.
Does Hong Kong offer more than skyscrapers and shopping malls?
In response, Dr Hoyin Lee whisked her off to Kam Tin village in the New Territories, plopped her down in the middle of a dijiao festival and made her watch some screechy Cantonese opera and chow down on a village basin feast.
A "basin feast" is literally a feast served in a large washbasin, with meat and vegetables artfully layered for maximum flavor. It is ubiquitous in Hong Kong's rural villages.
"But where is the village?" she demanded in confusion while scanning the uniformly ugly three-story concrete boxes haphazardly built all around her.
"You're in the middle of it!" Lee said.
"The thing that amazed us was the festival. It gave the village stability," he recalls. "The hardware or tangible part was not as important as the software. The festivals were kept alive by villagers for them to claim their right to the Small House Policy. Otherwise, they would be just like other Hong Kong residents.
"Festivals are a highly visible aspect of village life," says Lee, now the director of the Conservation Program.
The excursion led to their collaboration on A Tale of Two Villages, a study of Shui Tau and Shui Mei Tsuen, two of the oldest indigenous villages in Hong Kong. The book also touches upon how the city's building frenzy has led to exploitation of the 1972 Small House Policy.
In the late 1960s, with housing in urban areas unable to address the city's desperate need to house successive waves of immigrants from the Chinese mainland, the Hong Kong government started planning "new towns" in the New Territories.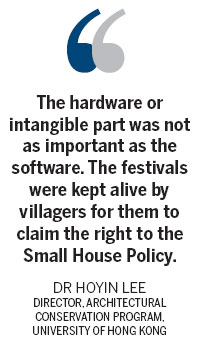 As a concession to the indigenous clans' claim to original land ownership, the government established a policy that allowed every male born to an indigenous clan who can trace his lineage prior to 1898 - the year when China ceded the New Territories to the British - the right to free land to build a small house with a maximum footprint of 700 square feet and a maximum height of 27 feet. He claims this right as soon as he turns 18 years old.
What was originally a temporary solution soon took on a life of its own when the clans' political voice gained power through the Heung Yee Kuk, the statutory advisory board representing the New Territories' indigenous inhabitants.
After the 1997 handover, the Small House Policy became law, as specified in Article 40 of The Basic Law.
The Small House Policy has been contentious since day one. Not only is it unsustainable - boys will continue to be born, but land in the New Territories cannot increase, despite successive harbor reclamations. It is also subject to continuous abuse. In that sense, Hong Kong is like many countries grappling with issues of fair treatment of indigenous communities.
Here, a village boy can sell his housing right to a developer before the house exists. He can claim land even if he lives or was born abroad. Over time, the policy has turned into a highly lucrative racket in a city with the most expensive property prices per square foot in the world.
Small houses do not require an architect's stamp or building permits, which means that many are shoddy, dangerous and with questionable basics such as proper drainage and structural reinforcement.
As many are built to maximize their square footage within village boundaries, things such as emergency vehicular access is usually non-existent.
"The volume becomes the form," says Lee, explaining why village houses all look more or less the same.
Yet one fortunate fallout from the Small House Policy is the continuation of intangible heritage. As clans must continue to prove their rights to small houses, they continue to practice traditions that have long vanished on the Chinese mainland.
"Without the tangible bricks and stones to hold it, the intangible is fragile and will disappear. The traditions of Chinese villages only take place in their essence in the New Territories - you cannot see this way of life anywhere else in the world. That is unique of Hong Kong: the Small House Policy has sustained Chinese traditions."
Along with festivals and rituals, intangible heritage encompasses oral tradition and language - the simple act of eating together as a family may be part of it.
Filmmaker Jessey Tsang Tsui Shan's Big Blue Lake captures these distinct idiosyncrasies in scenes such as villagers relating stories of their past in a casual playback theater environment.
"My mother married into our village from Kowloon," Tsang says. "To her, it was a completely different way of life.
"She said that something as mundane as not eating dinner with my grandmother may be regarded as a mini revolution in Ho Chung."
"Clans people are very resistant to change," says Lee.
"As long as their sons remain entitled, the patriarchal system is strengthened."
That means that while there is no easy resolution to the Small House Policy's problems, the unique living museum of the New Territories' rites and rituals will continue, and can be experienced in person or through movies such as Big Blue Lake.
(China Daily 11/06/2011 page3)