52 were rescued from C China coal mine blast
Updated: 2011-11-06 07:53
By Liu Xiangrui (China Daily)
| | | | | | | | | | | |
| --- | --- | --- | --- | --- | --- | --- | --- | --- | --- | --- |
|   | | Comments() | | Print | | Mail | | Large Medium  Small | 分享按钮 | 0 |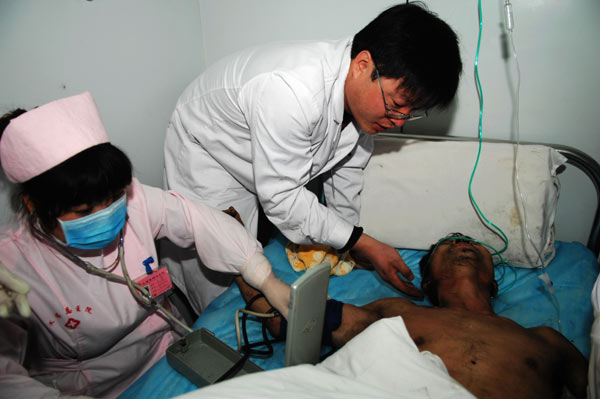 The medical team examines a miner, who had just been pulled out of the collapsed shaft on Saturday, at the Yima Coal Mine Hospital in Henan province. [Photo by Xiang Mingchao / China Daily]
YIMA, Henan - Rescuers had pulled all 52 survivors to safety by Saturday morning, nearly 40 hours after a massive cave-in destroyed a mineshaft in Central China's Henan province.
The death toll rose to eight after four more victims were identified late on Friday.
The accident took place in the Qianqiu Coal Mine in Yima city, in western Henan.
The mine's operator Yima Coal Mine Group, a major State-owned mine group in the province, said earlier that there were 75 miners in the shaft at the time of the explosion, and only 14 managed to escape to the surface immediately.
However, Wu Yulu, board chairman of the company, told a news conference on Saturday that 15 workers had escaped, citing a "counting error" resulted from the limited time during the rescue.
Wu said the accident was caused by a violent explosion triggered by a minor earthquake that the company had not detected despite importing advanced equipment from Canada and Poland.
The seriously damaged tunnel that trapped most of the workers was 810 meters underground. The explosion blocked the shaft at a depth of 480 meters, which hampered rescue.
Four were found killed shortly after the accident, and seven others were brought to the surface from a depth of 510 meters on Friday morning.
Rescuers were only able to connect with the stranded workers underground at 6 am on Saturday, when the search team reached 550 meters into the shaft.
The 52 survivors and four dead victims were successfully brought to the surface after rescuers unclogged the shaft half an hour later.
Most of the trapped miners were able to survive because there was enough space and ventilation, the rescue crew said later.
Meanwhile, certain rescue measures had lowered the gas density in the shaft and prevented secondary disasters.
Although they appeared weak after long hours of waiting, most of the survivors were in stable health and able to walk with help.
Only the last miners rescued had sustained more serious injuries.
On Saturday, state broadcaster CCTV showed rescuers with helmets and oxygen tanks carrying the workers out of the mine shaft to ambulances.
The miners, on stretchers, were wrapped with blankets with their eyes covered by towels to protect them from the sudden exposure to light after hours of being trapped in darkness.
Coal miner Pei Sanguo, 37, who sustained bruises on his face, was among the least hurt. He was one of the first pulled to safety on Saturday and rushed immediately to the local Coal Mine Hospital.
"I was very nervous at first. But our captain told us to stay cool, and we kept encouraging each other down there," said Pei.
He couldn't recall how he got the bruises, nor did he hear the explosion, "maybe because it was too loud".
"When we realized what happened, we started to help ourselves," he said.
"We took turns to dig upwards with shovels."
Trapped miners had dug over two dozen meters themselves by the time rescuers reached them, according to the rescue headquarters.
"When we heard the digging sound up there, we used wooden sticks to signal, too," said Pei, who said they didn't dare knock with iron tools and perhaps trigger another collapse.
According to Pei, they had bottles of drinking water with them, and "we all agreed to drink less so as to survive longer".
They also made minimal use of their lamps to conserve electricity, using the light only to check ventilation.
Medical staff with stretchers had waited outside the Yima Coal Mine Hospital, where miners' families had hurried to wait for the latest developments.
"We waited in the yard of the hospital until 12 o'clock last night. It was raining and cold, but we were so worried that we couldn't sleep," said Ren Linjun on Saturday.
Ren's brother was one of the survivors and had been slightly injured. He was brought to the hospital on Saturday morning.
More than 200 family members had been waiting together in the hospital, Ren said.
"Now that they've got out of it, they'll be good," said another family member who didn't give her name, after she was informed of her son's rescue.
Both she and another mother comforted each other by repeating the sentence, hugging each other and finally bursting into tears out of anxiety and excitement.
At the conference, Wu said each of victims' family will receive a compensation of at least 400,000 yuan ($63,200) from the mine company, and all the injured survivors will be provided with medical treatment.
When asked how to prevent further cave-in accidents in mines, Wu from the coal mine group said such accidents are becoming more common in China, and their prevention has been a tough problem.
Yang Xiaonan contributed to this story