Boo! Parent's Halloween surprise over daughter's image
Updated: 2011-10-29 09:44
By Wu Yiyao (China Daily)
| | | | | | | | | | | |
| --- | --- | --- | --- | --- | --- | --- | --- | --- | --- | --- |
|   | | Comments() | | Print | | Mail | | Large Medium  Small | 分享按钮 | 0 |
SHANGHAI - A Shanghai couple was shocked to see the face of their 2-year-old daughter staring back at them from the package of a Halloween costume.
"We have never permitted any form of commercial use of our daughter's picture," said Wang Zhiqi, the girl's mother.
Wang said that she called the manufacturer, Beijing's Xinxin Jingyi Gift, which decided to cut the face from the packaging.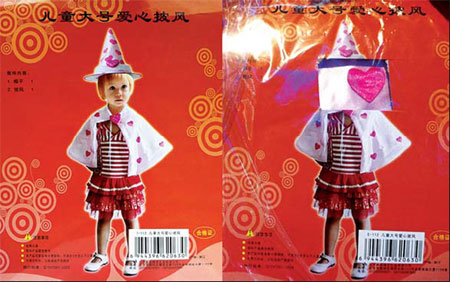 A girl's image on the package of a costume being sold in stores (left) was cut out and returned to the shelves following complaints from her parents, who said her image was used without permission. Provided to China Daily 
Wang and her husband Marc van der Chijs, co-founder of tudou.com, a Chinese video portal, suspected that their daughter Elaine's picture was lifted from one of the family's online albums.
The picture of her face was then superimposed onto the body of a much older girl in a costume.
"We don't mind how they solve it as long as our daughter's image is removed from the package," said Wang.
However, Wang said she still saw her daughter's image on display in at least one supermarket just a few days ago.
Wang bought the costume to show Elaine and her brother Scott to see what the children thought about it. The 2-year-old told her mother she didn't like the picture and 3-year-old Scott found his sister's picture quite strange.
"The kids are too young to understand what had happened," Wang said.
A man surnamed Yin, director of Xinxin Jingyi Gift, apologized to the child and her parents for what happened.
"We asked our employees to remove the products the same day, but we do not have enough manpower to guarantee that every product was removed," Yin said.
Yin did not want to reveal how many packages with the girl's picture had been sold.
"We did not put the girl's face on our package on purpose -we don't have a visual design department and we outsourced the design project to a man surnamed Xiao, but we did not know how he got a picture of the little girl," said Yin.
Xiao, the designer, said he found the picture from nipic.com, a website for sharing visual design materials.
"The job outsourced from Xinxin was just a part-time job, because I work in a printing studio so they asked me to print something with a foreign girl's face," said Xiao.
Xiao said he did hesitate when he used Elaine's face, but considering the girl might be thousands of miles away and would not be recognized in China, he just went ahead and printed it on the packaging.
"I feel quite sorry for what happened," said Xiao.
Wang said she and van der Chijs are not considering a lawsuit over the case and just want to see their daughter's images removed from products in supermarkets. "However, whether we resort to law depends on how the whole thing evolves, we'll see," she said.
Yao Weifang, a lawyer with Beijing Yingke Law Firm's Shanghai office, said increasing cases of infringement of portrait rights have been received in recent days, many of which are related to commercial use of portraits without permission. More and more pictures are shared online, which facilitates communication as well as increases the risks of rights being infringed, said Yao.