Environmental bureau hews to task
Updated: 2011-10-22 11:48
By Cang Wei (China Daily)
| | | | | | | | | | | |
| --- | --- | --- | --- | --- | --- | --- | --- | --- | --- | --- |
|   | | Comments() | | Print | | Mail | | Large Medium  Small | 分享按钮 | 0 |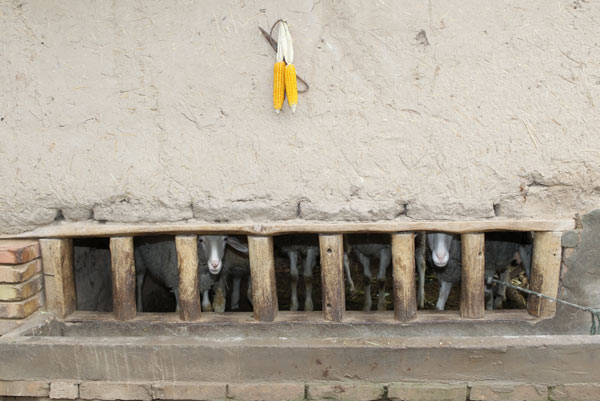 Villagers in Dongxiang county, Gansu province, raise sheep in enclosures with corn and straw to prevent the animals from eating fragile grassland. [Photo by Xu Jingxing / China Daily]
DONGXIANG, Gansu - Cracked clay walls, broken window glass, a big hole in half of the ceiling, letting sunshine directly through.
Such is the condition of the building that Dongxiang county has for its environmental protection bureau.
The bureau's nine offices are crumbling. On the inside of one, a wooden stick props up a wall to prevent it from falling in.
Yet, despite those disadvantages and the fact that the bureau is in one China's most poverty-stricken areas, it is doing its best to protect the local environment.
"From 2006 to 2010, we closed eight enterprises that released large amounts of pollution, most of them being smelting plants," said Wang Cheng, director of the local environmental protection bureau. Dongxiang now contains only 43 companies.
Wang said the bureau performs checks every month on smelting enterprises that use a lot of energy. Other kinds of enterprises, meanwhile, are inspected every three months to ensure they are not releasing too much pollution.
Dongxiang county's environmental protection bureau was founded in January 2005 and now employs 48 staff members.
Wang said almost no environmental protection work was carried out in Dongxiang before 2005 and the county contains only one waste-processing plant.
"Because of poor economic development, the bureau now faces many difficulties in protecting the environment, especially in rural places," said Qi Yongbiao, a worker at the bureau.
Qi said garbage in rural parts of the county is often mixed with straw and animal excrement and then burned by villagers who are trying to keep themselves warm in winter.
"They don't know that burning garbage can produce harmful gases," Qi said. "Only villagers with relatively higher environmental awareness bury garbage outside their houses.
"Sometimes when I enter a farmer's house in winter, I can hardly open my eyes because of the pungent smell from burning garbage," said Su Wenfu, who has lived in Dongxiang for five years.
Also posing a danger to the environment is the local people's use of fertilizer, pesticide and plastic tarps - which are often spread out over farmland in the winter.
"The environmental protection bureau has asked the villagers to collect the plastic tarps after the harvest," Wang said. "But we can only offer them 7 yuan ($1) for 10 kilograms of them and farmers rarely bother with collecting them."
He said only 2.07 million yuan was put toward environmental protection in the county from 2006 to 2010.
The bureau's lack of skilled workers has meanwhile brought it trouble; it employs no college graduates nor technical personnel. To ensure it can monitor the local environment, the bureau has had to invite in experts from Gansu province from time to time.
"All the college graduates refused to work for the bureau after visiting the shabby offices," Wang sighed. "But we understand why. Even the bureau workers don't dare to stay in the offices when it rains."
Despite the obstacles that lie before those who want to protect the county's environment, more attention is being paid to their goal and new waste processing plants are planned in the near future, Wang said.
Tuo Zhanxiao, a principal at a Dongxiang primary school, said many county schools are teaching their students about the environment.
"We have specialized teachers in charge of environmental education, and, at the beginning of every semester, the students are asked to pick up trash near their schools," Tuo said.
"The students are becoming more aware about the environment, and I believe environmental protection in the county will be improved gradually."