Art for art's sake
Updated: 2011-10-16 07:49
By Rebecca Lo (China Daily)
| | | | | | | | | | | |
| --- | --- | --- | --- | --- | --- | --- | --- | --- | --- | --- |
|   | | Comments() | | Print | | Mail | | Large Medium  Small | 分享按钮 | 0 |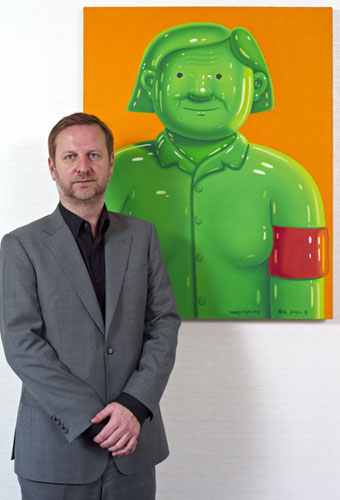 Jon Reade with Neighborhood Mother by Shen Jingdong Provided to China daily

The Chinese mainland art market provides solid investment opportunities, Rebecca Lo reports.
I bought my first piece of original art when I was a university student. It was a watercolor painting by one of my professors, and I loved the way the colors merged to form an abstract impression of a beautiful French landscape. Although I suspected the price of the painting would rise, that was never the primary motivation for the purchase.
Yet in a world where mainland Chinese art is fast becoming one of the most lucrative investments for steady financial returns, art lovers finally get to have their cake and eat it, too. That's where Jon Reade of Art Futures Group comes in.
Originally from Bedford in eastern England, Reade studied fine arts in a local college before managing Nether Hedge Gallery in Sheffield for six years. He then relocated to Australia and worked for Galleries Direct in Sydney, where he delved into the investment side of art and realized its potential as a valuable asset class. Three years ago, his business partner was interested in setting up an art brokerage business in Asia. Reade subsequently spent three months in Chinese mainland researching the market.
"I went to art fairs and exhibitions," Reade recalls. "And thought it was a great market. I was already selling contemporary Chinese art in Sydney and began to look at places to base our operations in Asia. Singapore and Shanghai were both considered, but Hong Kong is really the art hub in Asia."
Hong Kong, with its low taxes, no import duty, zero estates tax and no royalties to be paid upon purchase, has the makings of a perfect storm for selling art. With China now the world's second largest economy and the largest art market as of March 2011, Hong Kong's proximity to the Chinese mainland makes it an ideal base for an art brokerage house.
As director with Art Futures Group, Reade is keen to introduce the world of art investment to potential clients. "95 percent of them have never bought fine art before," he says.
"They are a whole new breed of investors; they may be lawyers, accountants or other professionals. About 10 percent are art lovers. And if you buy a piece of art, what's better than investing in what you love while also seeing it increase in value?"
Naturally, there are art lovers who don't want to sully their collections with even the thought of using them for financial gain. Art Futures is not for these purists. Reade also admits that his company's approach treats art like a commodity similar to real estate; it is not for day traders who want to see quick returns in a short period of time.
"The investment period is typically between two to seven years," he says. "Clients can expect to see their works go up from 12 to 18 percent per year. But the downside is that since people are so new to it, they need a lot of reassurance and education."
Fakes and copies are common worries from new investors, he says. A typical entry-level portfolio consists of paintings each costing HK$100,000 ($12,850) or more. Some clients buy a single piece, while others may invest in a collection of 10 to 20 works.
Art Futures Group focuses mostly on mid-career artists who have proven track records; emerging artists are deemed too risky and blue chip artists are beyond what most new investors would wish to spend.
Art Futures Group targets 30 to 40 Chinese mainland artists at a time, and whittles the list down to six or seven. Representatives from the company visit them to ascertain their potential by tracking down auction records, taking a look at their media coverage, whether they offer an international focus, how much art do they output and ensuring provenance. Currently, it has approximately 20 artists that it represents who mostly specialize in two-dimensional oil and acrylic paintings; the company does not represent photographers, print-makers or sculptors.
"Pop art with 'cultural revolution' (1966-76) themes are very on trend right now," Reade says. "Many Chinese mainland people look to their artists, and often they have a real say in how people are feeling about the current political climate. That makes the art very ambiguous. The smiling faces of Yue Minjun, for example: Are they ecstatically happy or are they intentionally sarcastic? His work gives the market real depth, making him one the leaders in contemporary Chinese art."
About 60 percent of Art Futures' investors are local Hong Kong Chinese, with the other 40 percent expats. Though some choose to hang the art in their homes, many opt for the company's leasing program as it guarantees a secondary income for the investment. Banks, financial institutions, wealth management companies, advertising agencies and public relations firms are just some of the companies that prefer to rent pieces to compliment their interior decor, and the trend lets Art Futures Group find a good match for their clients' investments. This scheme pays investors a regular dividend from the income generated that is free from capital gains while the art grows in value.
"There was a bubble in 2008 supported by overseas buyers," Reade acknowledges. "Prices were pushed up and became unrealistic, and artists were also overproducing. What we've seen last year is a steady increase in prices, but the artists are better managed with better regulations. Art is a great investment and our clients are putting their money into a beautiful medium."
You can contact the writer at sundayed@chinadaily.com.cn.