A role of his own
Updated: 2011-10-09 08:00
By Andrea Deng (China Daily)
| | | | | | | | | | | |
| --- | --- | --- | --- | --- | --- | --- | --- | --- | --- | --- |
|   | | Comments() | | Print | | Mail | | Large Medium  Small | 分享按钮 | 0 |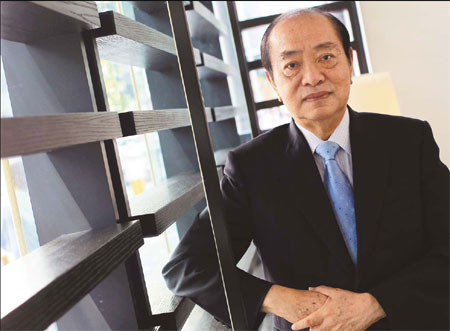 Peter Sun holds a degree from a top hotel-management school and helped build the first five-star hotel in Beijing, now known as the Great Wall Sheraton. Provided to China Daily
While his great-granduncle built a nation, Peter Sun chose to build hotels in China. In Hong Kong, he talks to Andrea Deng about his great-grandfather Sun Mei, who was Sun Yat-sen's elder brother, the family reputation and his personal chosen path.
The 70-year-old hotelier is finely groomed. Clad in a business suit paired with a light-blue tie, he is the image of dapper, low-key style. Peter Sun Bida gives no hint of his illustrious family connections, and Sun Yat-sen's great-grandnephew prefers to skim over the personal details when asked about his ties to the founding father of modern China.
But he speaks with pride of his great-grandfather, Sun Mei - Sun Yat-sen's elder brother, the man responsible for educating the young revolutionary in Hawaii and later in Hong Kong. Sun Mei also gave his all in support of the revolution, and ended up almost bankrupt after donating his personal fortune to support the cause.
"My ancestors were supermen. Their dedication and patriotism is incomprable. I am a hotel manager, and that is totally separate from what they did. I cannot help being born into this family," Sun says.
Peter Sun does not have a page on Wikipedia devoted to chronological details and achievements like Sun Yat-sen and Sun Mei. He lives in Hong Kong now, and holds the position of being a member of the Chinese People's Political Consultative Conference. Most of the time, he keeps a low profile, except when it is the 100th anniversary of the 1911 Revolution.
He was born in 1941 during the war, and spent his early childhood dodging bullets and bombs and avoiding capture. In the years after, he lived with his parents and four brothers in a rented house in Gunagzhou, with occasional visits back to the ancestral village of Cuiheng in Zhongshan.
There was no inherited wealth. His great-grandfather, Sun Mei, had spent all he had supporting his brother in his revolutionary work.
When he was 8, Peter Sun moved with his family to Hong Kong, completed his elementary and secondary education and then left to study in the United States in 1959.
There are few surviving relatives now. His uncles had stayed in Hong Kong as well and there are a few family gatherings, like the visits to the grave of Sun Yat-sen's mother on Kowloon Peak twice a year.
Sometimes, they travel to Taiwan to visit Sun Fo, Sun Yat-sen's son. That is when they are most exposed to media scrutiny, with different luncheons or dinner parties, or meetings with important politicians.
Otherwise, his life has followed his own chosen path. As he says:"I've never personally met Sun Yat-sen. His generation, including my great-grandfather Sun Mei, has been too far removed to have any direct influence on how I view the world. China is different now, and we are faced with a different world, with different issues."
"Revolution" may have been the keyword for his great-granduncle, but to Sun, the new buzzword now is "creation".
He was among the first trailblazers in the herculean nation-building effort when China started its economic reforms and opening up in the late 1970s.
Peter Sun holds a degree from one of the world's best hotel management schools at Cornell University, and packed years of experience working in the hospitality sector in the US and Southeastern Asian countries. He was approached by a US investment group in 1979 to tap the Chinese market.
He later found that the investment group was working with the then Beijing Tourism Bureau, and his task was help build the first five-star hotel - the Great Wall Hotel, now known as the Great Wall Sheraton.
It took five years from construction to operation.
"You cannot imagine how challenging it was at that time to start working on something from nothing," Sun remembers. "It was a rare opportunity. We entered the business in a very timely manner, and that was the proudest project of my entire career. I would not say that it was a huge success, but I dedicated what I had learned to it."
The path he has chosen echoes that of Sun Yat-sen and Sun Mei, although he would not claim the resemblance. The Sun family had been farmers and lived in destitution for generations. Sun Yat-sen and his brother Sun Mei fought hard to break that cycle and they sougt their chances abroad, eventually contributing to the revitalization of a nation.
Peter Sun says his great-grandfather took part in an uprising in Zhanjiang in Guangdong province, and spent all he had on the revolution, leaving nothing for himself.
"When we commemorate the centenary of the Xinhai Revolution, I hope the people remember the sacrifices that were made, the ideals and dreams, and the unfinished work still to be done." And that is when Peter Sun sounds most like his great-grandfather and his great-granduncle.
You can contact the writer at sundayed@chinadaily.com.cn.