Hose begins taking water to dry village
Updated: 2011-09-28 07:32
By Qiu Bo (China Daily)
| | | | | | | | | | | |
| --- | --- | --- | --- | --- | --- | --- | --- | --- | --- | --- |
|   | | Comments() | | Print | | Mail | | Large Medium  Small | 分享按钮 | 0 |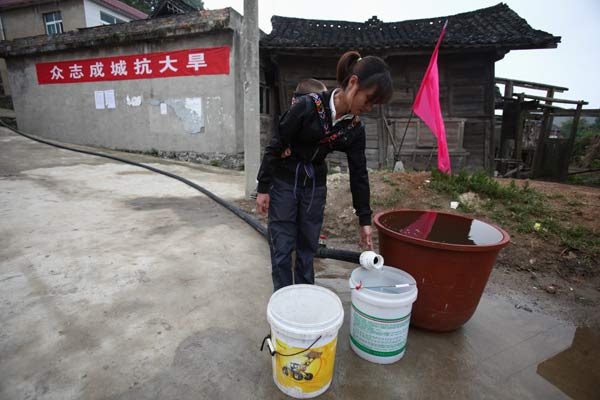 Tan Guanglian, a local farmer, fetches water at Bailong village in Guizhou province on Sept 19. As a result of a continuing drought, villagers in the region have had to use water from other towns to meet their basic needs. WANG JING / CHINA DAILY 
Line will prevent residents from walking far to obtain basic resource
GUIDING, GUIZHOU - Tan Guanglian, a 26-year-old villager from a remote village in Guizhou province, at one time would not have been able to believe her family could obtain fresh water without walking for miles.
But a little more than a week ago, a 13.7-km rubber hose, with a diameter of six centimeters, began taking water from a neighborhood in a nearby county and bringing it to the front door of her house.
Drought holds on
BEIJING - A lingering drought in southern China has left 13.45 million people and 6.39 million head of livestock short of drinking water, Liu Ning, deputy minister of water resources, said on Monday.
The drought has also affected more than 2.76 million hectares of farmland in Southwest China's Guizhou, Yunnan and Sichuan provinces, the Chongqing municipality and South China's Guangxi Zhuang autonomous region, according to the ministry's latest statistics.
The affected area in those five places comprises 56 percent of the country's farmland that has been hit by the drought, Liu said, citing official figures.
The severe drought, which began in early July, has resulted both from less rain falling than usual and from high temperatures brought on by global climate change, as well as frequent bouts of extreme weather, he said during an online chat organized by the website of the People's Daily.
Rivers in Guizhou province, a place known for its rich water resources, have taken in 50 percent to 80 percent less water than usual since the start of flood season this year. As a result, 455 rivers in the province have dried up, according to ministry statistics.
High temperatures and drought have dried up more than 1,500 small-scale reservoirs in Guizhou, Yunnan and Sichuan, Chongqing and the Guangxi Zhuang autonomous region, official figures showed.
The vice-minister said China has pledged to do more to improve its ability to conserve water and that the drought has exposed flaws in the country's reservoirs and irrigation systems.
Jin Zhu - China Daily
"I don't have to walk two kilometers while carrying my baby to draw water anymore," she said. "Getting water is much quicker now."
Tan and about 2,300 village residents, most of them belonging to the Miao and Bouyei ethnic groups, have never during their lives been able to escape their worries about water shortages.
"We are forced to wash our feet with water that has washed our faces," said Xu Yunchang, a 66-year-old villager. "After that, the turbid water will be used to wash clothes."
"The experts did an investigation of water resources there several years ago and found an underground cavern that was dozens of meters deep," said Song Linglin, an official from the county's water resources bureau. He said that discovery indicated there is no way villagers can pump water underground.
A drought that began in late June has severely hit Guizhou province, devastating millions of hectares of crops and depriving residents of water. That made matters in the village, which is named Bailong, only worse.
An improvement came, though, on Sept 12, China's traditional Mid-Autumn Day. Li Yuecheng, the former mayor of Qiannan Bouyei and Miao autonomous prefecture, arrived then to survey the damage inflicted by the drought and to learn about the villagers' hardships.
According to Min Yingru, a 54-year-old villager, Li took the occasion to say the government should work to ensure local residents have a steady supply of drinking water.
Trying to find the best way to meet that goal, county officials immediately got in touch with the officials in charge of a nearby town that had enough water stored to meet its own needs.
Local governments worked together to pay the 600,000 yuan ($94,000) needed to lay the hose line. The work was completed in seven days.
"The engineers worked against time, day and night, and they even slept in the fields," said An Yufei, a local official.
By Sept 18, water was moving through the hose. "The government did some solid work for us," said Xu Yunchang with a smile on his face.
By Friday, about 21 million people in Guizhou had been affected by the drought and more than 6.5 million people there did not have enough drinking water, according to an announcement released by the provincial civil department.
The report also said 1.85 million hectares of crops have produced lower yields or even totally failed, which caused a direct economic loss of 15.3 billion yuan.
China Daily